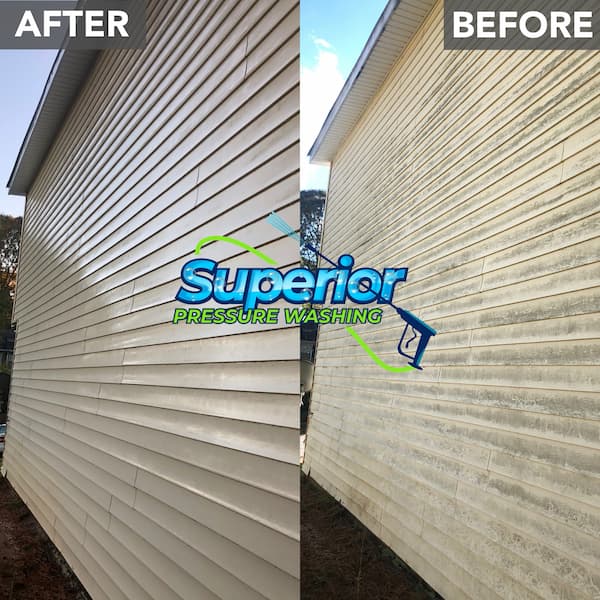 This great pressure washing information was provided by Dr. Powerwash, a Charlottesville pressure washing company and friend of Superior Pressure Washing.
Spring is a time for refreshing and renewing various aspects of life. The outside environment starts to become more alive. Fresh flowers and trees start blooming, birds start singing, and the weather becomes warmer. As you see the beauty of Spring emerge, the last thing you want to see is a dirty and grimy house.
Once the snow melts and the days begin lengthening, it is a great idea to take a look at your home's exterior. Ask yourself, is everything working correctly and how does the house look? Harsh winter weather can take a toll on a home and cause damage. The home's siding, gutters, windows, and roof could have problems or look unsightly. Examine each aspect of your home's exterior to make sure that it looks attractive, gives you confidence in your home's functionality, and is safe.
Each Spring, the components of a house should be assessed for potential external cleaning needs. We recommend that you check the home's siding and soffit to see if a House Wash is needed. Next, look at the porch or deck to determine if they need to be pressure washed, painted, or stained. Check the gutters to see if the downspouts are clogged or backed up. Lastly, take a look at the roof to see if there is any damage, black streaks, or mold growing.
10 Reasons Why You Need A Spring External Home Cleaning
Prevent Damage to Your Home
The outside of your home automatically accumulates moisture during the winter months from snow, freezing rain, and rain. The moisture will collect dirt, dust, pollution, and even mold onto your siding, soffit, gutters trim, and roof. This disgusting combination will turn into algae, mildew, and eventually, stains that cannot be removed. Washing your home each Spring will prevent this growth and damage from occurring. Having the roof cleaned of black streaks and mold is also highly recommended.
If a home's gutters are not checked and cleaned out each year then they will become backed up with debris. Leaves, shingle grit, sticks, insects, and even tennis balls will get clogged in gutters. Once a backup occurs, water will overflow from the gutters and can ruin a home's foundation, siding, and roof. The last thing you want is water getting into the home once past the siding or roof. A regular gutter cleaning can prevent expensive damage to the home and allow the gutters to work correctly by moving the water away from the house.


Saves Homeowners Money in the Long Run
Almost all car owners make small investments in routine oil changes to protect their investment in their vehicle. They understand that this small action will increase the life of the car and save them money in the long run. A house is a much greater investment than a vehicle, so why wouldn't you spend time and effort in maintaining its exterior? Regular exterior cleaning and maintenance will actually cost you a lot less than having to repair or fix problems. For example, yearly siding cleaning with a professional soft wash will extend the life of the home's siding and prevent large bills in the future.


Increase or Restore Curb Appeal
By cleaning the exterior of your home you will be giving your home a makeover that makes the home look like new. The amount of dust, grime, and mold that comes off of a house during a House Wash will amaze you and the shining surfaces after the job is complete will amaze you as well. We clean all of the vertical surfaces when washing a house. In addition to the siding, we will clean a home's soffit, wood trim, and even pillars.. The result is a home that visitors are extremely impressed with and it shows anyone passing by that this is a well maintained house.
By cleansing your home, the buildings' structure and materials are much less likely to deteriorate. Less deterioration means that mold, water, insects, and rodents are less likely to get into your home. The restored health of your home increases curb appeal and has the additional benefit of adding value to your home.


Enjoy Your Porch, Deck, and Outdoor Living Space
Your porch and deck are great spots to socialize with friends and family in the Spring. They are also prime spots to sit and drink your morning coffee or just relax and enjoy breathing in the outside air. A moldy deck or discolored porch ruins the atmosphere and the air that you are inhaling.
Take advantage of the extra space provided and the relaxing environment of an outside living space by having it cleaned each year. As exterior cleaning professionals, we suggest having the deck soaped and pressure washed lightly for a small amount of mold and grime removal. If a deck or porch has a high level of mold or the paint is decayed, then we would suggest a stronger level of pressure washing. A stronger level of pressure washing will be needed to strip the mold and paint from the wood. If stripping the paint from a deck, then it is extremely important to use the proper level of pressure so that the wood does not burr. If the wood does burr then the wood must be sanded before staining or painting. Once the pressure washing is complete and the paint is stripped from the wood, the deck can be painted or stained fully. Our team of professional powerwashers can take care of all of this for you, and make the renewed outdoor living space an area to enjoy where friends and family can gather.


Improves Physical and Mental Health
If a home has mold, dust, or mildew on the siding, porch, deck, soffit, or roof then there is a high probability that you and your family are breathing in air that is not good for your health. If the mold and mildew get through the exterior surfaces and get inside the house then the negative health effects will increase. It is best to remove the mold and mildew from the exterior of the house and destroy the chance of the fungus from getting inside the home and making you or your family sick.
Killing off the mold and dust on the outside of the home will also allow you to enjoy all of the aspects of your home and know that you are breathing in good clean air. There are tremendous health benefits from being outside and enjoying the sunshine. Additionally, the physiological benefits of living in a clean, low-stress environment are tremendous. Once you have the exterior of your home cleaned through soft washing, you will be able to sip your coffee while sitting on your front porch in complete peace. Kids and pets will be able to play on sidewalks and driveways without the health consequences of breathing in allergens and mold.


Eliminate Safety Hazards
Sidewalks, patios, pathways, and steps can often become slippery with rain and snow. If mold is allowed to grow on these surfaces then they will become extremely treacherous. A rough fall can break bones and even cause worse problems. The risk of an injury increases as we age or for young children. Regular powerwashing will terminate the excessively slick surfaces that come from mold and mildew.
At Superior Pressure Washing, we pre-treat and post-treat concrete when completing a pressure washing job. This means that we will pre-treat the concrete with our soap mix to eliminate mold. Next, we will pressure wash the concrete surfaces to clean and remove the grime. Just to be sure, we then post-treat the surface during our concrete cleaning jobs so that all of the mold is completely destroyed and you have peace of mind knowing that your home's surfaces are clean and safe.


See Clearly Out of Your Windows
Spring cleaning should always include cleaning windows! Moisture builds up on windows often throughout the winter and it captures dirt and pollution, often leaving a layer of grime once Spring rolls around. To see clearly, the grime and dust needs to be removed. Most homeowners like to do the interior windows themselves, but the exterior windows can be a problem and upper story windows an additional challenge to clean. A ladder and squeegee are often needed to clean all of your windows. You can also call a professional to minimize your risk.
A House Wash will clean a home's windows somewhat but to thoroughly clean your windows a full Exterior Window cleaning is suggested. There is no better feeling than looking through sparkling clean windows as the Spring flowers start blooming and the days get lovelier.


Be Prepared to Host Family and Friends
The Spring is a great time to host family, friends, and neighbors, especially outdoors. The camaraderie of hanging out with others is enjoyable and extremely important for our mental health. When visitors are over, you want to have the option of enjoying time outside. This is even more important if you have a larger group setting.
If the exterior of your home is dirty or moldy, it is hard to want to show your home to others or host gatherings at your house. Often, we tend to forget what the exterior of the house looks like until right before we have an event and then it is too late to get the House Washed. No one wants to feel embarrassed by a dirty or grimy-looking home. Setting up a Spring House Wash will eliminate the potential embarrassment and allow you to host get-togethers with confidence. Spring powerwashing promotes pride in your home and you can then show off your beautiful home to your guests.


Increase Property Value in Preparation for Selling Your Home
Are you thinking about selling your home or do you plan to do so in the future years? If so, there is no easier way to increase your home's value and curb appeal than to invest in a House Wash and Roof Cleaning. After a House Wash, a home shines like new and looks amazing. Yearly pressure washing will make the exterior surfaces look great consistently and your property value will improve at a steady rate.
A freshly washed home can be the difference between a sale or your home still being on the market. It can also make a big difference in the offer amount that a buyer makes to you. A House Wash, Roof Cleaning, Window Cleaning, and Gutter Brightening package will only be a fraction of what you make when selling your home. The increased property value could also make you a substantial amount of money.


Increase the Life of Your Roof
A home's roof is one of the most important parts of a house. A leaking roof can cause substantial damage to the inside and outside of your home. Additionally, the cost of fixing a roof is expensive and the cost of replacing a roof is even more expensive. One of the reasons for roof damage is from black streaks of mold or green mold on a roof. The mold can get inside cracks and crevices of a roof and start the deterioration process. Once this process starts, the integrity of the entire roof is compromised.
Black streaks and green mold on a roof can be eliminated with a Spring Roof Cleaning. A Roof Cleaning will increase the life of your roof tremendously. According to Roof Cleaning USA, regular roof cleanings will allow a roof's shingles to reach their maximum warranty guaranteed by the shingle manufacturers. At Superior Pressure Washing, we use a softwash system and soap mix to eradicate the mold at its source. Our professionals complete Roof Cleanings efficiently and safely so that homeowners do not have to risk getting up on the roof themselves. We recommend that you never allow anyone to use pressure to clean your roof. Pressure washing a roof will damage the shingles and create problems. Therefore, we only use a softwashing strategy for roof cleanings.
How Can Superior Pressure Washing Help?
Spring is the most important time of the year to clean the exterior of your home. The aesthetics are pleasing to the eye and will allow you to take pride in your home. More importantly, the health, safety, and physiological benefits of a cleaned home are extremely rewarding.
We offer some great external cleaning packages here at Superior Pressure Washing. We can set up any combination of House Washing, Roof Cleaning, Gutter Cleaning, Window Cleaning, or Pressure Washing services. If you would like the most trustworthy external cleaning company in the Douglasville area to help you with your Spring Cleaning please call us at 770-315-3494. We can also provide you with a free estimate after you fill out our Contact Us form on our website.
---