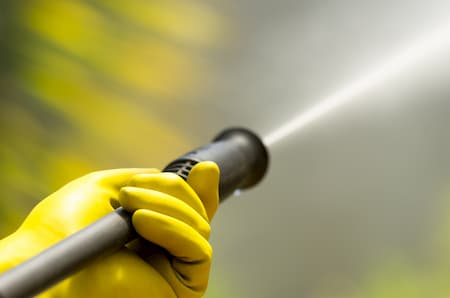 When you choose our Newnan pressure washing, you know you're investing in your property. Superior Pressure Washing is the top-rated pressure washing company in Newnan, GA. We specialize in high-quality pressure washing, and we ensure 100% satisfaction to all of our customers. At Superior Pressure Washing, we care about your home, and we want to ensure that it lasts longer than a lifetime.
Exterior work is more than beautifying your home. Exterior cleaning works to rid your property of any bacteria, moss, or mold plaguing its surfaces. Caring for your home is a full-time job, and it takes a lot of work to ensure that it stays clean, healthy, and safe. To guarantee the best services for your Newnan property, call our team of experts at Superior Pressure Washing.
Newnan's Top Pick for Pressure Washing
With numerous years of experience in the pressure washing industry, we are passionate about what we do. We expect our pressure washers to deliver you with nothing but a top-notch experience.
We only deliver quality results as well as 100% customer satisfaction. Contact our team to join our family here at Superior Pressure Washing, your one-stop pressure washing company in Newnan, GA.
House Washing Experts Taking Care Of Newnan Clients
Regular house washing should be included in your property maintenance routine. The only real question isn't whether you should have your home pressure washed - how often should you schedule this service?
Newnan homeowners schedule a professional cleaning for the outside of their home about once every three years, but it's much more beneficial and practical to do it more often. At least once a year is ideal, and even that may not be often enough based on factors such as how much shade your property has and how much precipitation we've had that year.
Rain, humidity, and other factors impact how things like mildew and mold develop on your exterior surfaces. Even a particularly active pollen season can cause the outside of your home to look rundown. Our cleaning will improve the look and condition of your home.
If you're still looking for good reasons to schedule house washing, consider these:
Maintain your property value
Prime surfaces for painting or staining
Enhance curb appeal
Remove contaminants that threaten your home and your health
Get rid of cobwebs and insect nests
And if you're listing your home for sale, professional house washing can help you increase the asking price by up to thousands of dollars!
Driveway Cleaning To Improve Your Newnan Property
You wouldn't think something as seemingly minor as your driveway could ruin your home's looks, but it's entirely possible. Unfortunately, a dirty and neglected driveway detracts from the overall look of your property. Don't let oil stains on your asphalt become your home's unintended negative focal point. Superior Pressure Washing is here to offer you the level of expert service you deserve for exterior surface cleaning. Even your driveway should get VIP treatment concerning outdoor cleaning. Let every aspect of your residential property look amazing and picturesque.
While the employees at your local hardware and home improvement store will be glad to sell or rent you the equipment you need to DIY your power washing, we recommend you leave the work to us. Without formal training and supervised experience, pressure washing can be dangerous for your property and your safety. Let us handle jobs like driveway washing so you can avoid doing the work but reap all the benefits.
We promise to meet and exceed your expectations. Your satisfaction is our number one priority!
Best Commercial Pressure Washing You'll Find In Newnan
Which company would you like to hire for your commercial pressure washing in Newnan? If quality cleaning without the risk of property damage is important to you, then you'll want to give us a call. We're one of the few exterior surface cleaning companies around that take precautionary measures to clean exterior surfaces without taking chances.
Too many companies still use harsh power washing for every type of job. We realize that your roof shingles and glass windows might need gentler cleaning than your concrete sidewalk. Our soft washing is the perfect fit for surfaces that require greater care.
We want to make a good impression on you. The best way to do that is by offering cleaning that helps you make a positive impression on your own clients. Our commercial cleaning will improve the look and condition of your building and show the community that you care about your business.
Let us show you in person that we care about your property and will do whatever it takes to get it looking its best. Do yourself a favor and hire a company that cares about your satisfaction and taking care of your property. Our residential and commercial pressure washing is safe but effective, guaranteeing your satisfaction.
---