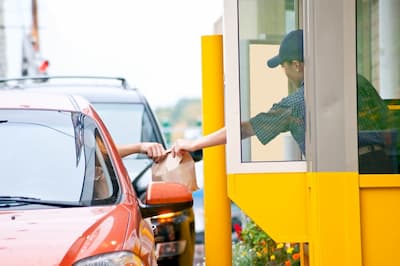 Superior Pressure Washing offers excellent drive-thru pad cleaning services in Douglasville and surrounding areas. Our drive-thru pad cleaning services can improve the cleanliness and appearance of your drive-thru while removing oil and food stains from your property. The first impression that people get when they arrive at your property makes a huge difference in how potential clients perceive your business. With years of experience in this industry, we can guarantee that we will remove even the toughest stains from your drive-thru safely and efficiently.
Are Drive-Thru Pad Cleaning Services Important?
Drive-thru pad cleaning not only keeps the appearance of your building looking beautiful but also helps your establishment meet health code violations. When owning a restaurant, health code violations can significantly affect your business. Still, the cleanliness of your building on the outside is just as important as the cleanliness on the inside. This includes the drive-thru lanes of the restaurant. But don't worry! Our pressure washing services here at Superior Pressure Washing is sure to clear your drive-thru lanes of any dirt, stains, mold, or mildew!
When a customer visits your establishment, they see everything. If your driveway condition is gross, we can guarantee you that they no longer care about how your food tastes. They may even take their business elsewhere! Drive-thru pad cleaning services help your business aesthetically, but they can help you retain your customers. Our highly trained technicians use professional-grade equipment to clean exterior surfaces, including dumpster pad cleaning, building washing, and window cleaning.
At Superior Pressure Washing, we recognize the significance of completing a drive-thru pad cleaning project without interfering with your day-to-day business. Our professional cleaners are trained to perform these services courteously. You can count on us to provide high-quality service in a short amount of time. When it comes to maintaining your restaurant, the drive-thru pad cleaning service at Superior Pressure Washing can transform your business for the better. So, call our pressure washing team today for quotes or to schedule an appointment!
---
Recent Articles & Tips
Why You Should Pressure Wash Your Drive Thru

Have you ever gone through a drive-through and wanted to return your order based on its condition alone? Surprisingly enough, this is more common than you think. Keeping your drive-thru clean is a ma […]

How Often Should You Mow Your Grass

Before we ask how often you should mow the grass, we need to start with when you should begin mowing your lawn. You can begin each spring by cutting the lawn before it turns green and begins growing, […]