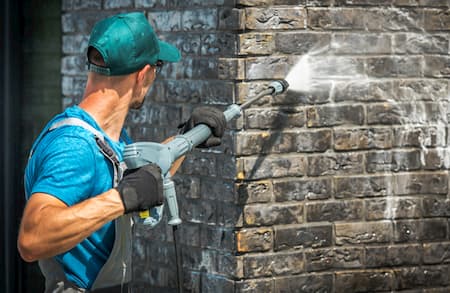 Superior Pressure Washing is the leading building washing specialist in Douglasville. When you go into a shop, the first thing you notice is its exterior appearance, and a stained shop wall does nothing but runs away potential clients. However, with regular building washing services, your shop can remain well maintained all year round. Building washing is essential to any business's success. Pressure washing your business enhances your property's beauty, but it comes with numerous other benefits as well. Some of these benefits include:
Enhances the general curb appeal
Improves the safety and hygiene of the property
Increases properties lifespan
Saves you money
Some business owners don't know about building washing as it's not common knowledge unless you're in the field of pressure washing. Building washing works to make your building shine. It'll increase your sales and make your business look more inviting.
Customers & Community Come First
At Superior Pressure Washing, we always try to do what's right by our customers and our community, and we guarantee that if you do business with us, your building will be sparkling by the end of the service. When building washing and parking area cleaning, we use high-pressure and low-pressure washing techniques to ensure that we achieve a superb clean. For building washing, we use soft washing techniques to preserve the exterior surface while also using quality tested cleaning detergents to clean the building. Soft washing prevents siding from being peeled away and holes that can be created in the roof and the walls of the building.
Pressure washing increases your building's lifespan, but it can prevent mold and mildew from growing. With rain, snow, and other elements continually being exposed to your building, it makes your property a breeding ground for mold and bacteria, especially if you aren't taking the initiative to clean the property correctly. Decay on your building can not only lead to health problems for you, your staff, and your customers. It can also cause your structure to deteriorate if left untreated.
With all the hassles that come with pressure washing, you might be thinking of taking on the task yourself. However, trying to conduct pressure washing services without any guidance or training is dangerous, and it can cause more damage than good. To ensure that you and everyone else is safe, leave the pressure washing to the pros. Sometimes the easy way out only causes more trouble. So, let our pressure washing crew handle the stress of pressure washing, call us today for an estimate, or schedule an appointment!
---
Recent Articles & Tips
How Professional House Washing Helps Improve Your Douglasville Property

Pressure washing is something you should be scheduling as part of your routine house maintenance. It's common for homeowners to wait until things look grimy enough to remember it's time to make that call. A better approach is to schedule service consistently, so you get a […]

Top 3 Benefits Of Professional Driveway Cleaning

As industry experts in the pressure washing field, we've heard all of the excuses. It's no surprise that homeowners have many reasons they put off a task like a driveway cleaning. It hurts our feelings when we hear things like "but it's just a driveway." Every […]
---