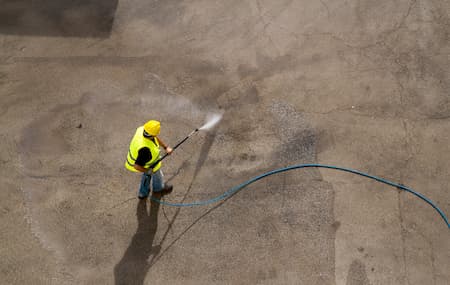 Superior Pressure Washing is the leader in Dallas, GA, for pressure washing. At Superior, we always strive to go the extra mile to deliver our customers superior customer service and quality results.
With years of experience in this industry, we are committed to making our customers feel happy and appreciated.
We guarantee to provide you with an exceptional clean that will beautify and protect your home and exterior surfaces. If you're ready to renovate your Dallas home, schedule an appointment or receive a quote today!
How Pressure Washing Improves Your Dallas Home
At Superior Pressure Washing, we offer both soft washing and power washing techniques when conducting our services. We offer these power washing methods for our services, such as concrete cleaning and parking area cleaning.
However, for the rest of our services, we use soft washing techniques to ensure that no damage comes to you or your home. Due to the risk that can come with pressure washing, we suggest hiring trained experts for all of your pressure washing jobs.
By hiring Dallas's local pressure washing experts, you can eliminate any threat of property damage or personal injury. Pressure washing comes with numerous benefits as well; some of these include:
Improving Curb Appeal
Increasing Property Value
Safeguarding Your Exterior
We strive to restore and revitalize your property, and we guarantee you'll love your home's appearance after your property restoration services. So, call Dallas's local pressure washing professionals to provide you with the highest quality services in Georgia.
Dallas Homeowners Love Our House Washing Work
Dallas homeowners can breathe a sigh of relief because Superior Pressure Washing offers house washing! The same level of professionalism and expertise you're accustomed to for our other pressure washing services also applies to washing the exterior of your home. We'll make your house look as good as new.
Of course, it's not just about appearances. The work we do will help you maintain your home and keep it in tip-top shape. That means you can avoid ongoing repairs. It's more cost-effective to schedule routine exterior cleaning services than deal with the expense and hassle of unexpected emergency repairs.
What better way to prepare your home for painting or selling than our expert exterior surface cleaning? Our house washing rids your home's outside surfaces of dirt, pollen, mold, and other substances, so it's ready to paint or sell.
Please do yourself a favor and make it a priority to schedule your appointment as soon as possible. To make the process easier for you, we'll even give you a free estimate for our house washing and other pressure washing services.
Make sure your dream home doesn't start looking like a filthy nightmare. Call today to request exterior cleaning for your home in Dallas.
Driveway Cleaning That Improves Your Home In Dallas
Superior Pressure Washing is a leading resource in the area for exterior cleaning, including driveway washing. Our professional driveway cleaning service helps remove contaminants like:
Mold
Mildew
Algae
Moss
Bacteria
And More
We remove stains and wash away dirt, so your driveway looks brand new. If you're not keeping current with pressure washing for your driveway, this area of your property will become the focal point of your home for all the wrong reasons.
Neglecting your driveway also leaves slippery spots on the surface. Substances like oil and moss make the driveway treacherous for foot traffic, and you could be liable for guests who injure themselves on your messy driveway.
Did you know that certain chemicals on your driveway may also pose a threat to local wildlife or even your own family pet? The odor of antifreeze, for example, attracts animals who consume this toxic substance. Your dirty driveway could prove fatal or at least cause severe illness for animals. Beautify your home and remove health and safety hazards by letting us clean your driveway.
Dallas Commercial Pressure Washing Doesn't Get Better Than Our Work
If you're not making commercial pressure washing a top priority for your business, you could be making a big mistake. Some of the best reasons to schedule routine exterior cleaning for your business are:
Make a good first impression on your customers and potential clientele
Remove harmful contaminants that will damage your property
Retain or increase your property value
Promote safety and wellness for your staff and customers
Reduce the need for costly repairs and improve the longevity of your property
You have a lot to take care of as a business owner, so it's easy to overlook a task like power washing. The good news is that you don't have to do the work; all you have to do is make the call. Contact our crew in Dallas to make your appointment for commercial cleaning.
Our methods are proven safe and effective for a wide range of materials and surfaces. For more delicate cleaning, we rely on soft washing, which uses cleaning solutions to do the brunt of the work, instead of high PSI from water spray.
What are you waiting for? Give us a call right now to inquire about pressure washing for your local home or business.
---