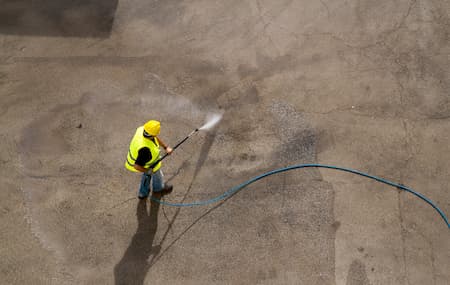 Superior Pressure Washing is the leader in Dallas, GA, for pressure washing. At Superior, we always strive to go the extra mile to deliver our customers superior customer service and quality results.
With years of experience in this industry, we are committed to making our customers feel happy and appreciated.
We guarantee to provide you with an exceptional clean that will beautify and protect your home and exterior surfaces. If you're ready to renovate your Dallas home, schedule an appointment or receive a quote today!
How Pressure Washing Improves Your Dallas Home
At Superior Pressure Washing, we offer both soft washing and power washing techniques when conducting our services. We offer these power washing methods for our services, such as concrete cleaning and parking area cleaning.
However, for the rest of our services, we use soft washing techniques to ensure that no damage comes to you or your home. Due to the risk that can come with pressure washing, we suggest hiring trained experts for all of your pressure washing jobs.
By hiring Dallas's local pressure washing experts, you can eliminate any threat of property damage or personal injury. Pressure washing comes with numerous benefits as well; some of these include:
Improving Curb Appeal
Increasing Property Value
Safeguarding Your Exterior
We strive to restore and revitalize your property, and we guarantee you'll love your home's appearance after your property restoration services. So, call Dallas's local pressure washing professionals to provide you with the highest quality services in Georgia.
Improving Your Dallas Lawn with Lawn Maintenance
When it comes to lawn maintenance, specific terms come to mind when people think of the service. These terms include mowing and weeding. However, more services go into lawn maintenance—one of these services is dethatching.
In a lawn, thatch material collects around the base of the grass. Thatch is not made up of mowed grass clippings, as clippings usually break down in a week or so. Thatch is made up of culms and crowns that have died naturally.
Too much thatch build-up can prevent air and water from entering your soil, causing your grass to die. However, at Superior Pressure Washing, we are versed in all lawn maintenance needs. So, call us to remove brush, leaves, or even thatch to keep your yard looking brand new!