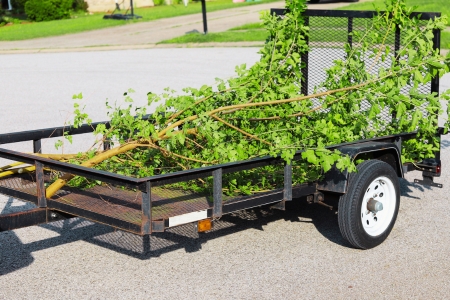 Superior Pressure Washing offers the best brush removal in Douglasville, GA. Here at Superior Pressure Washing, our lawn maintenance crew will assist in removing unwanted shrub debris. This debris can either be from shrubs that are still growing and alive or a brush pile you created from your landscaping efforts. Whatever the case may be, Superior Pressure Washing can complete your brush removal services for you.
Many of the time, many property owners trim their trees and shrubs as well as remove brush only to discover the debris pile that created is beyond their ability to dispose of.
Most property owners are not equipped to deal with large piles of brush and other tree debris due to lack of adequate equipment, such as woodchippers and dump trucks. Further, even if they have a pick-up truck, tree trimming, and other brush removal efforts, they can create a brush pile that quickly exceeds the carrying capacity of their vehicle. So, we offer a brush removal service to help property owners eliminate trees and shrub debris quickly and inexpensively.
Helping Customers No Matter What
Many service companies don't like to provide brush removal as a standalone service, as they believe there isn't enough money for their time. However, our focus is never on the money, it's on our customers, and we are dedicated to doing anything that will help them. We focus on customer service in everything we do. So, we look at this rather low-profit service as an opportunity to build relationships. We believe that by offering these services, we can build faith and trust in our company to remain our customers for the long haul.
So, call Superior Pressure Washing to experience the best brush removal services in the industry. Call for a free estimate for any brush removal or leaf clean up needs you may have!
---
Recent Articles & Tips
How Professional House Washing Helps Improve Your Douglasville Property

Pressure washing is something you should be scheduling as part of your routine house maintenance. It's common for homeowners to wait until things look grimy enough to remember it's time to make that call. A better approach is to schedule service consistently, so you get a […]

Top 3 Benefits Of Professional Driveway Cleaning

As industry experts in the pressure washing field, we've heard all of the excuses. It's no surprise that homeowners have many reasons they put off a task like a driveway cleaning. It hurts our feelings when we hear things like "but it's just a driveway." Every […]
---