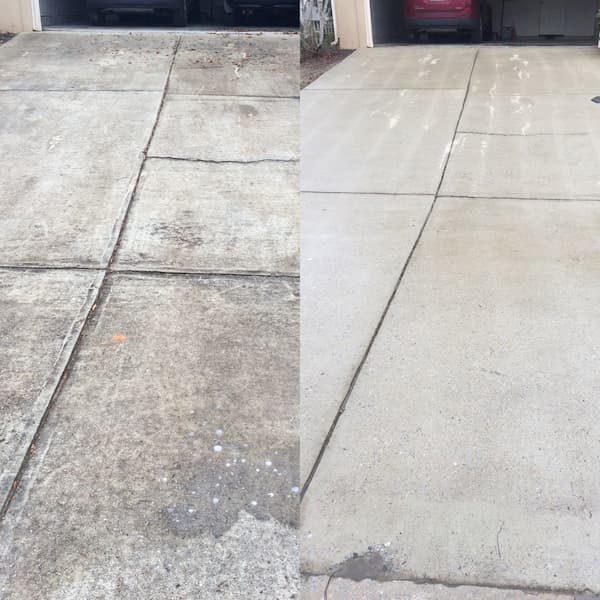 If you're looking to revitalize the atmosphere and curb appeal of your home in Roswell, pressure washing is the first step to take. It can take a lot of time and work to do yourself, so if you need a reliable, trustworthy, expert service company, call on Superior Pressure Washing to do the job. We are committed to pleasing our customers in every way we can. We set standards for our pressure washing team that will ensure your satisfaction each and every time. Our pros are on time for the project, provide excellent communication and services, and always finish on time and within your budget.
It is priority for us to deliver an exceptional level of deep cleaning without damaging any of the surfaces involved. Our pressure washing experts are trained to know when to use pressure washing and when to use low-pressure soft wash methods. When you choose Superior Pressure Washing, we handle every last detail to make our services the best experience for you and your Roswell home.
Your Top Choice For Pressure Washing
When you want to find a pressure washing service for your next exterior cleaning project, turn to us! You'll be able to depend on our local Roswell professionals for complete exterior cleaning services including house washing, deck cleaning, and concrete cleaning.
It makes sense as a homeowner to want to choose the best service possible to ensure the job gets done right and that the results last for years to come. With our skilled and experienced specialists, all jobs are carefully detailed to ensure a long-lasting, beautiful clean for your siding, porches, decks, concrete, pavers, driveways, and more.
House Washing Experts Taking Care Of Roswell Customers
When homeowners in Roswell need professional house washing services, they rely on Superior Pressure Washing. Your home is your biggest and most important investment, and we're here to help you take good care of it. Don't let dirt, grime, and stains take a toll on the home of your dreams.
Our team of licensed technicians will use the safest and most effective cleaning methods to get the best results. We'll take care of your home to ensure there's no damage caused during the washing process. What's the point of cleaning your home if you're going to end up with repair needs from it?
We go above and beyond to give every client the level of personalized care they deserve. Our professional approach to cleaning and customer service is how we've earned the trust of our fellow community members. Our company name is synonymous with industry excellence, and it's easy to see why once you've worked with us.
Although the clerk at your local hardware store will try to sell you on the idea that pressure washing is a DIY job, we beg to differ. Jobs like house washing can be potentially hazardous, leading to bodily injuries or property damage. Put your faith in our exterior cleaning dream team for outstanding work.
Driveway Cleaning For Your Home In Roswell
Superior Pressure Washing is a name you should know already, but you may not realize the extent of the work we do. We offer premium pressure washing services such as driveway cleaning. While you may not put driveway washing at the top of your list, we're here to help you understand why that's a mistake! A dirty driveway ruins the curb appeal of your entire property.
Filthy driveways detract from the overall property value of your home. Left ignored, organic growth like mold and algae can ruin your driveway. Slippery surface substances pose a safety threat increasing the chances for slip-and-fall incidents. Regular cleaning helps deter weed growth which can damage your driveway.
It's not all about looks, although that matters too! Routine exterior surface cleaning is important for every aspect of your property, including your driveway. You can rely on our experts to get out spots and stains while washing away slippery grime that could cause problems for foot traffic.
Give us a call right now, and let us show you in person how we've become the number one resource in the area for driveway cleaning and more.
Roswell's Preferred Resource For Commercial Pressure Washing
You'll be glad to know that we also provide high-quality cleaning services for commercial clients. Our commercial pressure washing is highly sought after, and our clients in Roswell can't say enough good things about our work. You need a clean exterior for your commercial building so you can make a good first impression on your customers, prospective clients, and employees. If you don't stay current with cleaning your building, you could send your customers to the competition. If you don't include cleaning as part of your ongoing maintenance, you'll have more frequent repair needs. It's more cost-effective to pay for regular cleaning than emergency repairs. Our technicians will wash away dirt, chewing gum, graffiti, and other surface contaminants that are found outside your business. Our storefront and facade cleaning will do wonders for your commercial property. What are you waiting for? The sooner you schedule your commercial pressure cleaning appointment, the better off you will be. Take good care of your property, impress your customers, and keep your employees happy with our thorough cleaning services. There's no better time to schedule your exterior cleaning than right now. We're eager to have the opportunity to show you why we're the top choice in Roswell and the surrounding areas.
---