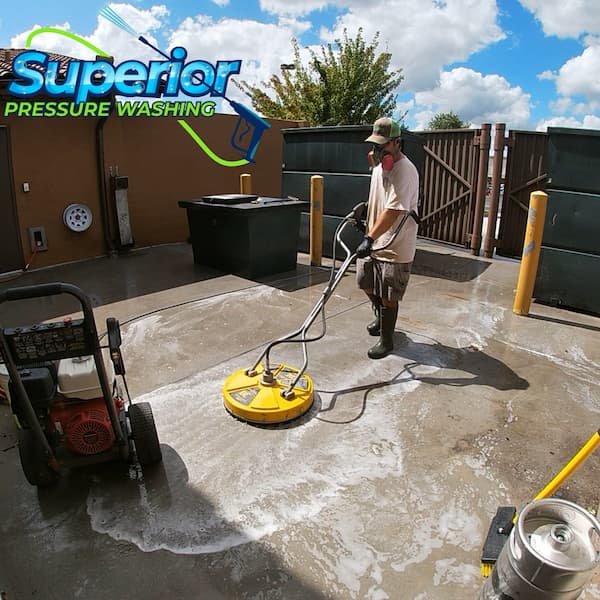 Superior Pressure Washing offers dumpster pad cleaning and pressure washing services in Douglasville, GA. Keeping your dumpster pad clean is essential for the health and safety of your business. Dirty dumpster pads can provide problems with animals, health concerns, and security risks for your employees and your customers.
When it comes to cleaning your dumpster pad, it is not a project that you should take on alone. There are numerous benefits to hiring a certified pressure washing company to handle this service; these benefits include:
Nasty Odors breeding-ground for Bacteria (Salmonella, E Coli, Listeria)
Vermin like Mice, Flies, and Bugs
Unsightly grease oil spills.
Dumpsters will rust, leading to leaks.
All these things can harm you, your employees, and your customers if you are not careful. So, it is best to hire a trained professional to handle your dumpster pad cleaning for you.
Tips for Maintaining Your Dumpster
Most people never think about maintaining their dumpster, but it helps with service pad cleanings. Here are some helpful tips that you can follow to maintain your dumpster.
To maintain your dumpster, you can insist that your waste disposal company provides a Dumpster made from sound metal or heavy-duty plastic.
Clean around and under dumpsters daily if necessary, and sweep-up any spilled debris after collection.
Ask your waste disposal company for a dumpster or compactor, which will minimize spillage.
Clear Dumpsters and storage locations using a line.
Lock your Dumpster lid if necessary, to prevent scavenging and unauthorized use.
Dumpster pads are near every place of business, and we get it. They are vital for handling garbage and other waste that every business creates. However, it is essential that they stay well maintained and they should be cleaned by a pressure washing company regularly. Not only must dumpster pad cleaning often happen for aesthetic reasons; in addition, they should be carefully sanitized to prevent infestation by insects and bacteria.
Here at Superior Pressure Washing, we can make sure that your business is clean as possible with dumpster pad cleaning and driveway cleaning. We have years of experience, and our professionally trained technicians will remove oil, grease, food stains, and other dirt from your dumpster pad area. So, call our pressure washing team today for a quote or schedule an appointment!
---
Recent Articles & Tips
How Professional House Washing Helps Improve Your Douglasville Property

Pressure washing is something you should be scheduling as part of your routine house maintenance. It's common for homeowners to wait until things look grimy enough to remember it's time to make that call. A better approach is to schedule service consistently, so you get a […]

Top 3 Benefits Of Professional Driveway Cleaning

As industry experts in the pressure washing field, we've heard all of the excuses. It's no surprise that homeowners have many reasons they put off a task like a driveway cleaning. It hurts our feelings when we hear things like "but it's just a driveway." Every […]
---