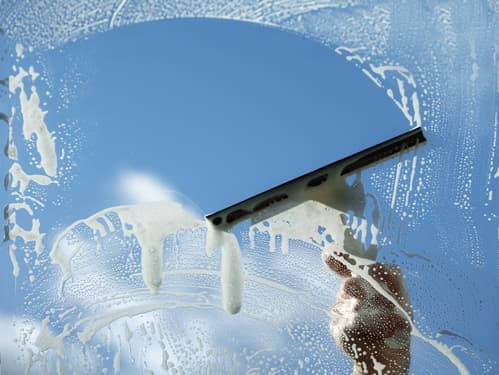 Window cleaning is not a simple service in the pressure washing industry, and many pressure washing companies try to stay as far away from this service as possible. Luckily, Superior Pressure Washing is your go-to window cleaning expert in the Douglasville area.
At Superior Pressure Washing, our trustworthy pressure washing professionals are trained to get your windows truly clean without damaging them. Our specialized team works to treat your windows and screens with the utmost care leaving them sparkling clean and damage-free.
Whether you need us for regular cleaning or house washing or rust removal, our team of dedicated professionals will be able to take care of any service you may need. Contact Superior Pressure Washing today for a quote or to schedule an appointment.
Why Window Washing Should Always Be Completed By Professionals
Although Do-It-Yourself projects are becoming increasingly popular, some home improvement projects should never be DIY projects. Cleaning your windows is a task best left to the professionals. Someone who is untrained trying to take on window washing can easily break their windows and injure themselves or others.
To wash your windows, successfully, you have to be versed on which techniques and what water pressure is suitable for the window you are attempting to clean. Most everyday people are not versed on which nozzle to use with their pressure washing tools, and they might also be unaware of the space that you have to leave between you and the window. Aside from the apparent dangers that window cleaning can bring, here are some other reasons why window cleaning is better left for the professionals:
Reduced Risk of Injuries
Fewer Spots and Streaks
Fewer Abrasions
Trouble-spot Detection
More Time to Yourself
DIY projects can be a great hobby, but not every home improvement project has a DIY solution. When it comes to window cleaning services, it is best to leave those jobs to skilled pressure washing professionals. So, if your windows have seen better days, call Superior Pressure Washing! At Superior Pressure Washing, we will ensure to leave your windows sparkling, so call us today to receive a quote or schedule an appointment!
---
Recent Articles & Tips
How Professional House Washing Helps Improve Your Douglasville Property

Pressure washing is something you should be scheduling as part of your routine house maintenance. It's common for homeowners to wait until things look grimy enough to remember it's time to make that call. A better approach is to schedule service consistently, so you get a […]

Top 3 Benefits Of Professional Driveway Cleaning

As industry experts in the pressure washing field, we've heard all of the excuses. It's no surprise that homeowners have many reasons they put off a task like a driveway cleaning. It hurts our feelings when we hear things like "but it's just a driveway." Every […]
---