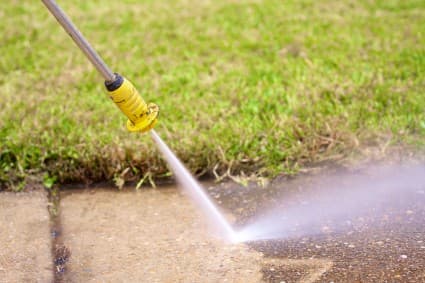 Superior Pressure Washing is dedicated to the city of Marietta when it comes to supplying exceptional pressure washing services. We service your residential properties to rid them of any mold, bacteria, algae, or other substances that could harm your home and family.
Having your exterior surfaces cleaned professionally is vital for the overall health and longevity of your home. Contrary to the current social media trends, pressure washing is not a task that you should do yourself.
Pressure washing can be extremely dangerous, especially to untrained individuals. To ensure the well-being of you and your property, leave the pressure washing to the trained professionals at Superior Pressure Washing. We promise your home is in good hands, and we stand by our commitment to ensure that all of our Marietta customers are 100% satisfied.
Marietta's Pressure Washing Specialist
When it comes to cleaning your home, there are many ways to go about doing it. There are multiple ways that people clean their homes, but the most efficient and effective way to clean it is by pressure washing.
Pressure washing can save your home from pest, mold, bacteria, algae, and other harmful substances. Pressure washing works not only to protect your home's appearance but also to increase your property's life span.
There's no reason you should leave the cleaning to chance when you know trusted pressure-washing professionals who could get the job done. If you are ready to restore your Marietta home, call us to get started on your pressure washing journey today!
Marietta's Preferred Choice For Professional House Washing
It all starts with getting your free quote for our pressure washing service. Superior Pressure Washing is the name to trust if you're ready to schedule house washing for your Marietta area home. We've worked hard to earn and maintain our flawless reputation, so let us show you firsthand why we're the best choice around for house washing and more.
Exterior surface cleaning for the outside of your home removes the grime that tarnishes the appearance and poses threats of damage. If you want to retain your curb appeal and reduce repair costs, stay current with your pressure washing. Instead of having a home covered in green algae, make your neighbors green with envy over the immaculate condition of your home.
The substances that accumulate on your home's exterior can also pose a threat to your health and wellness. Contaminants like mold spores, pollen, and bacteria can trigger allergy or asthma attacks and lead to other health complications. Keep your loved ones safe with a clean exterior and minimize exposure to these toxic substances.
Make sure your home is your neighborhood's focal point for all the right reasons. Call us today with questions and to schedule an appointment.
Driveway Cleaning For Maximum Curb Appeal In Marietta
How can you have the home of your dreams if you're letting your driveway ruin the beauty? A dirty driveway will tarnish your curb appeal, and that's the least of your problems. Stay current with professional driveway cleaning to reap benefits such as:
Eradicate unsightly stains like oil and paint Remove slippery substances that pose a safety threat Wash away substances like antifreeze that are toxic to animals Keep weeds at bay Destroy mildew, mold, and moss
It's also a good idea to wash away contaminants you'd rather not have tracked inside your home. Dirt and pathogens can be easily carried into your household on the bottom of your shoes. Keep your home healthy, safe, and free from carpet stains by reducing the amount of accumulation there is on your driveway, sidewalks, and walkways.
If you're planning on applying a sealant to your driveway, you'll need our services first. We'll remove the build-up so you can seal the surface without trapping dirt or stains and more optimal adhesion.
Routine cleaning reduces repair needs and helps prolong the lifespan of your driveway. Don't settle for anything less than the best; let us take care of your cleaning.
Commercial Pressure Washing Pros For Marietta Businesses
Operating a business is always about finding ways to keep that competitive edge. Sometimes, it's something as simple as making sure your exterior looks good so that you can make a good first impression. If you're not worried about how the outside of your building looks, you could be sending your customers to the competition that does care about theirs.
Aside from that, a clean exterior is important for reducing the need for repairs. It's more financially sensible to cover the cost of preventative maintenance like commercial pressure washing than pay for avoidable repairs. Take care of your exterior and the materials that help keep your storefront pristine.
Your Marietta commercial building is also an investment. Keep it clean, and in good condition so you can maximize the property value. Let the pros at Superior Pressure Washing work with you to take care of the professional cleaning service you need in order to maintain your commercial facility.
Exterior surface cleaning for your commercial property will make your building look its best and help attract new customers. Let us focus on the cleaning so you can focus on the daily operations of your business. Give us a call to schedule professional pressure washing for your residential or commercial property.
---