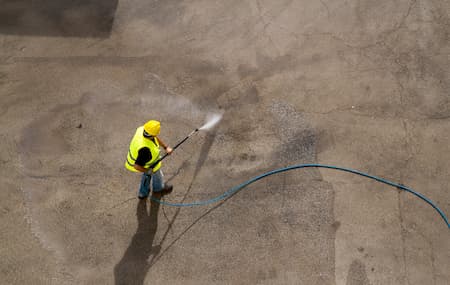 Superior Pressure Washing is the best concrete cleaning company in Douglasville. We offer quality pressure washing services such as driveway cleaning and house washing to make your exterior surfaces sparkle. Concrete can easily get stained with oil and rust, leaving your sidewalk and driveways looking haggard. Cleaning your concrete will not only have it looking bright and white but also extend its service life.
Concrete cleaning is difficult because you may not even realize when it's time to clean it. It can be challenging to tell when your pavement is accumulating grime, especially with an untrained eye. The dirt and filth build up slowly, so at first glance, you may not notice that your property is in desperate need of a deep clean.
So, what are you to do when your driveway is becoming soiled and dirty? Call your friends at Superior Pressure Washing! Superior Pressure Washing is a reliable pressure washing company that can combat the hardest marks and stains that come with concrete cleaning. We use a combination of low pressure and high-pressure techniques when conducting our cleaning services. We use different methods because it's the safest method for you and your family's health, and it's also the most reliable method for your property.
Concrete Cleaning is a Business or Home Essential
Your concrete is an essential part of your home or business's appearance, and it's one of the first things people see when they look at your property. We have several years of experience in the pressure washing business, and our concrete cleaning services are guaranteed to make your driveway, parking lot or sidewalk look brand new again. Call us today to schedule an appointment or receive a quote!
---
Recent Articles & Tips
Why You Should Pressure Wash Your Drive Thru

Have you ever gone through a drive-through and wanted to return your order based on its condition alone? Surprisingly enough, this is more common than you think. Keeping your drive-thru clean is a ma […]

How Often Should You Mow Your Grass

Before we ask how often you should mow the grass, we need to start with when you should begin mowing your lawn. You can begin each spring by cutting the lawn before it turns green and begins growing, […]