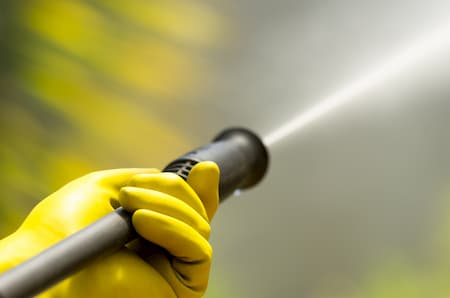 What's The Difference Between Pressure Washing And Soft Washing?
Pressure washing and soft washing are both extremely effective solutions for your home renovation projects. Unlike power washing, pressure washing does not heat water. However, the machine's pressure is still high enough to be dangerous if you are not a trained professional. Pressure Washing is meant for services such as decks, stone pathways, and walking surfaces.
On the other hand, soft washing is a low powered cleaning method that is used in combination with cleaning detergents to provide our customers with an exceptional clean. Soft washing is an eco-friendly cleaning solution that will not strip the protective coating on your home's exterior. Soft washing is used on more fragile surfaces and is preferred in various situations over pressure washing, such as roof cleaning and house washing services.
How Often Should I Complete My Lawn Maintenance?
How often your complete lawn maintenance depends on how fast your lawn grows and the climate you live in. The general rule of thumb is mowing your lawn weekly; however, some lawns need to be cut more often. On the other hand, some lawns will grow more slowly and might need to be cut only once every two weeks. If you're not sure how fast your grass grows, we generally try not to cut more than one-third of the grass blade when mowing. Overcutting your grass can harm it, so always let the lawn's length be the judge of when to cut it, and don't base your maintenance on the last time the lawn was mowed.
I Have Old, Set In Stains. Does Your Service Clean Those Up?
Pressure washing can remove a wide range of stains from your exterior surfaces. From oil stains from your car to your customer's cars, Superior Pressure Washing can remove these stubborn stains working to take years off your driveway and parking lot's appearance. From moss, algae, mold, and mildew by regularly pressure washing your property, not only can we quickly remove unsightly growths, but we can also remove both early and advanced stages of exterior mold and mildew. Regardless of which types of stains, you're faced with Superior Pressure Washing can help you remove them. The sooner we tackle these stains, the less likely they will appear in the future, so contact us to schedule an appointment to start your restoration services today!
Are Your Cleaning Methods Or Chemicals Environmentally Safe?
Yes, soft washing not only delivers lasting results and efficiency, but soft washing is also an eco-friendly alternative to pressure washing. People often think of the word chemicals and automatically associate it with danger, but chemicals aren't always bad for the environment. The chemicals used in soft washing helps break down contaminants and infestations so they can easily be rinsed away. The chemicals are water-based, non-hazardous, and biodegradable, so they leave no contaminants behind.
---