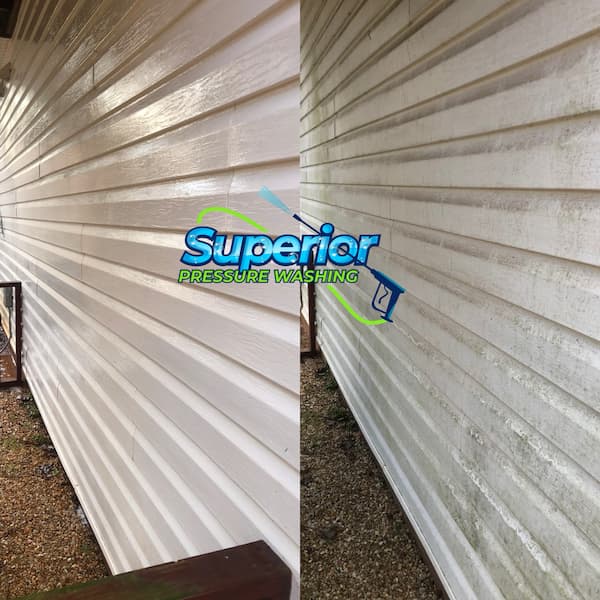 What your Sandy Springs home needs right now is professional pressure washing from our skilled and dedicated team. At Superior Pressure Washing, we go above and beyond to provide exceptional results for all of our customers. We work with residential and commercial clients, and our hard work is how we've earned the reputation we have.
Our company anime has become synonymous with excellence; all you have to do is browse our previous work to see why. We care about what we do because cleaning your exterior helps beautify the entire community, but it also protects your home.
We're the team you call on when you want to fight the good fight against algae, fungus, bacteria, and dirt. Give us a call today to get your free quote, and let us show you why we're the preferred local pressure washers.
We're Your Best Choice For Commercial Pressure Washing In Sandy Springs
By now, you probably know we're the wise choice to make for residential pressure washing in Sandy Springs, but did you realize we're also the best option for commercial pressure washing? Superior Pressure Washing is proud to have earned the title of best of the best when it comes to local power washing for home and business owners. We offer these commercial exterior cleaning options:
Our professional cleaning helps promote better health, safer conditions and increases the value of your property. Take good care of your home or business in this area by entrusting us to masterfully carry out your power washing services.
Premium House Washing In Sandy Springs
Superior Pressure Washing is the only name you need to know for house washing in Sandy Springs. Our professional pressure washing is second to none, and our customer service is just as impressive. Our commitment to 100% customer satisfaction is unwavering.
Taking good care of your home starts with a good maintenance plan, and that plan needs to include exterior surface cleaning. We're dedicated to ensuring that every client sees a noticeable difference in the quality of the appearance and condition of their property.
We promise to go the extra mile to provide you with the level of service you deserve. We want your dream home to look perfect instead of being covered in green algae and dirty grime. Imagine how much better your home sweet home will look once we wash away contaminants like:
Mold Algae Moss Bacteria Bird Droppings And More!
A cleaner exterior will also enable you to retain or increase the value of your home. If you're planning on painting your home, exterior cleaning is a necessary first step. Or, if you want to list your home for sale, house washing will enable you to raise the asking price by up to thousands of dollars.
Property Owners In Sandy Springs Give Our Driveway Cleaning 5 Stars
How does your driveway look right now? If you're living with a filthy driveway, you're only doing yourself a disservice. Not only does a dirty driveway look bad, but it can also pose a threat to foot traffic. Slick substances like moss and oil residue become even more slippery when it rains, and that's a safety hazard for anyone walking across the surface.
Cleaning your driveway also helps lower the risk of repair needs. There's less chance of weed growth which can cause serious problems for your driveway by causing cracks or making existing cracks worse. Don't let your driveway become the unintended negative focal point of your property. Those unsightly stains will tarnish your driveway but also detract from the overall look of your home. Our job is to help prevent that from happening.
You'll need our services first if it's time to reseal your asphalt. We'll wash away the grime and accumulated stains, so you're not sealing in the mess. Plus, sealant sticks better to clean surfaces for longer-lasting protection.
Stop procrastinating, and call us now to schedule your service appointment. We're eager to provide you with the driveway cleaning and other pressure washing services you need in the Sandy Springs area.
---