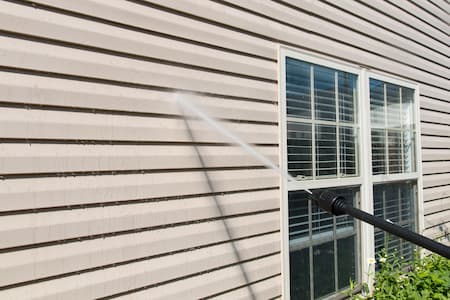 Superior Pressure Washing is the best-rated pressure washing team in Hiram. Our community knows and trusts us to take care of their properties as we would do our own. This is due to our promise to offer exceptional service and quality exterior cleaning.
Our goal at Superior Pressure Washing is to make your properties shine for you and your family. We strive to go the extra mile for our clients because the stronger that relationship becomes, the more we can predict what services work best for you and your properties.
Make your life in Hiram easy and call Superior Pressure Washing for your pressure-washing needs. We are your one-stop-shop for a reliable source for pressure washing in Georgia. So, don't waste your time and call your reliable pressure washing specialist today!
Hiram's Leading Pressure Washing Specialist
At Superior Pressure Washing, we offer pressure washing services for numerous parts of your home.
So, if you are ready for your home to receive a makeover, it's time to invest in pressure washing. We take care of your residential properties so that you can feel confident and comfortable in your home.
Our mission is to provide you with the best services that Georgia has to offer. Get in touch today and schedule an appointment in Hiram for all of your pressure washing needs.
Homeowners In Hiram Rave About Our House Washing
Superior Pressure Washing is a name worth knowing for all of your pressure washing needs. We work with residential and commercial clients, and one of our most widely requested services is our house washing. We use safe but thorough exterior surface cleaning methods to leave amazing results.
Some of the vital benefits of routine house washing include:
Improve your home's overall appearance and curb appeal Increase the property value of your home Remove contaminants that can damage your home Wash away substances that pose a health threat to members of your household Prepare the exterior surface for painting or staining
You should also know that pressure washing your home is a great way to get your house ready to sell. A clean surface looks great for photos and in-person viewings. However, the minimal cost for house washing translates into up to thousands of dollars for how much you can increase your asking price - it's a wise investment!
The last thing you want is for your home to get noticed for all the wrong reasons. Your home can be covered with green algae and mildew, or your neighbors can be green with envy over how stunning your home looks. The choice is yours, and we're here to help when you decide to make the appointment.
Hiram's Top Choice For Professional Driveway Cleaning
When homeowners in Hiram need driveway cleaning, they count on us. We offer premium services and deliver optimal results. Your satisfaction is our top priority and the driving force behind everything we do. Even your driveway deserves to be spotless and clean. The grime that accumulates can have a negative impact on more than just your driveway; it can tarnish the appearance of your entire property. The work we do removes oil, paint, and other stubborn stains.
We also wash away slippery grime that poses a safety threat because there are more than cars that use your driveway. Foot traffic is at significant risk of slipping and falling if you fail to wash away substances that collect over time, like algae and moss.
You can also feel good knowing we're getting rid of contaminants that are a health concern. You don't want to track germs, bacteria, and pathogens into your home from the bottom of your shoes, right? Then let us keep your driveway clean to help prevent this from happening.
Call today to make your service appointment. We'll show you why we're the number one choice in the area.
Superior Hiram Commercial Pressure Washing From Our Team
Let's do the same thing for your business that we already have done for your home! Except it's more important to maximize the curb appeal of your business because this is how you attract new clients. A dirty exterior won't just fail to lure in new customers, it could scare away your existing customer base and send them straight through the doors of your competition.
How can you expect your customers to take you seriously if you appear as if you don't care enough to keep your business clean? Neglect necessary exterior surface cleaning for too long and the exterior of your business will end up looking abandoned.
For superior pressure washing in Hiram, give Superior Pressure Washing a call. We offer high-quality exterior cleaning and outstanding customer care.
We want to make sure the community sees how spotless and clean your place of business is so they go out of their way to support you. You'll be amazed at the transformation once we finish cleaning the outside of your commercial property. Don't settle for anything but the best when it comes to exterior cleaning for your home or business.
---