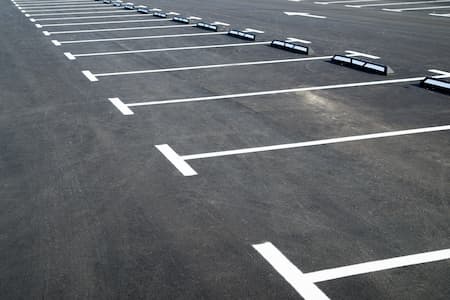 Are you looking for a parking area cleaning specialist in Douglasville or surrounding areas? Well, you've come to the right place! Superior Pressure Washing is your go-to pressure washing company in Douglasville, GA. Here at Superior, we specialize in parking area cleaning and building washing services, so call us for all your commercial pressure washing needs!
A clean parking lot is beneficial to your company, but it's also useful for your brand. When you visit stores and different establishments, one thing that sticks out for all the wrong reasons Is a filthy parking area. The cleanliness of your parking area affects your customer's viewpoints on you and your business. Make sure you're leaving a good first impression and keep your parking area looking clean and with Superior Pressure Washing.
Parking areas covered with trash and debris aren't only bad for business; they are also unsafe and unsanitary. A parking area filled with waste can cause risk factors for your customers and employees. These risk factors can be hazardous to your health and safety, potentially causing legal problems for you and your company.
Increase Customer Experience with Parking Lot Cleaning
We work to prevent any potential risks and problems. We want your customers to have a satisfying experience whenever they visit your business. So, we utilize multiple techniques and services to remove all grease, grime, and debris from your surface areas. Our complete parking area cleaning services include:
Power cleaning
Garage cleaning
Trash removal
At Superior Pressure Washing, we do more than pick up debris to keep your surface area clean. We make sure to sweep and vacuum all surface lots and pick up all the trash and remove grease and grime that can be potential hazards.
At Superior Pressure Washing, we care about your reputation and image, and we want to make sure that we help your business remain clean and safe for your staff and guests. While also ensuring that the only thing in your parking area is a lot of customers! Call Superior Pressure Washing for all your parking area cleaning services and schedule an appointment today!
---
Recent Articles & Tips
How Professional House Washing Helps Improve Your Douglasville Property

Pressure washing is something you should be scheduling as part of your routine house maintenance. It's common for homeowners to wait until things look grimy enough to remember it's time to make that call. A better approach is to schedule service consistently, so you get a […]

Top 3 Benefits Of Professional Driveway Cleaning

As industry experts in the pressure washing field, we've heard all of the excuses. It's no surprise that homeowners have many reasons they put off a task like a driveway cleaning. It hurts our feelings when we hear things like "but it's just a driveway." Every […]
---