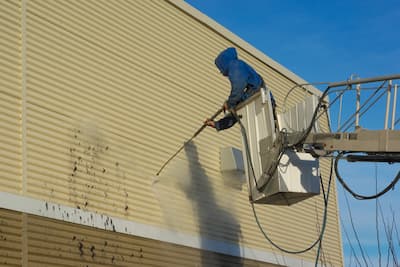 Superior Pressure Washing is the best graffiti removal service in Douglasville, GA. Though graffiti can be a beautiful art form, we don't necessarily want to see these drawings on our properties. It can be challenging to remove graffiti, at Superior Pressure Washing we are trained in removing these drawings from your properties.
Typically graffiti that is etched into a surface with scratches requires finish repair. They can also be removed with hot water using pressure washing equipment and professional-grade graffiti removers.
We don't suggest that you try to graffiti removal on your own. We can remove the graffiti, but we can't remove any damage caused by attempting to pressure wash the graffiti on your own. Every graffiti job is different, some graffiti may be simple to remove, but others are almost impossible to eliminate without a trained pressure washing specialist.
Different factors contribute to the ease of graffiti removal. These factors include:
Temperature
The type of graffiti; spray paint, magic marker, permanent markers, stain, acid etching, etc.
Type of surface that was tagged
Time, which is probably the most important factor.
Professional Graffiti Removal Techniques
Balancing these four items on a case-by-case basis is essential in removing graffiti without causing additional damage. If you notice graffiti anywhere on your property, contact someone to remove it as quickly as possible! The longer the graffiti is left on the finish, the more it can penetrate the surface and bond with it. All spray paints and markers used for graffiti will penetrate the surface over time. The deeper the penetration, the more difficult it is to remove the graffiti, and the more the graffiti threatens its surface when cleaned. Also, the more sensitive the surface the graffiti was pained on is, the faster the graffiti will penetrate. Materials that quickly absorb graffiti include brick, stone, and wood. More resilient materials include cars and glass. So always contact us when you see graffiti so that we can remove it immediately.
Removing graffiti as soon as it appears not only gives your building a better chance of not being damaged in the removal process also reduces the risk of vandals doing it again. So, call us if you require rust removal or graffiti removal services, we are ready and equipped to make any tagged surface look brand new again.
---
Recent Articles & Tips
Why You Should Pressure Wash Your Drive Thru

Have you ever gone through a drive-through and wanted to return your order based on its condition alone? Surprisingly enough, this is more common than you think. Keeping your drive-thru clean is a ma […]

How Often Should You Mow Your Grass

Before we ask how often you should mow the grass, we need to start with when you should begin mowing your lawn. You can begin each spring by cutting the lawn before it turns green and begins growing, […]