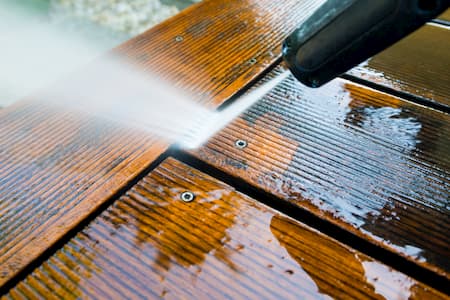 Buying a home in Lithia Springs is an investment, and like most investments, it comes with many responsibilities. One of these responsibilities is keeping your home's exterior appearance maintained. When you first bought your house, you probably never thought about cleaning your home's exterior surfaces, let alone looked at it as a necessity. Few homeowners invest in regularly scheduled house cleanings, but the ones that do enjoy an increased property value and less money wasted on avoidable repairs and replacements.
Suppose you're ready to start cleaning the exterior of your home well call Superior Pressure Washing! We are already the leading pressure washing pros in Lithia Springs, so see why! We take pride in our work and our staff, and we are committed to satisfying every customer. Owning a home is a full-time job that can be incredibly stressful. Let us take the stress of exterior cleaning off your plate.
The Leading Pressure Washing Specialist in Lithia Springs
When you read articles about pressure washing, you may be thinking about taking on your pressure washing projects like house washing and deck cleaning yourself. Home improvement stores sell the equipment that allows you to try pressure washing at home; pressure washing is not a home improvement service that you should try and do yourself.
Pressure washing is incredibly dangerous if you don't have the correct pressure washer size or nozzle. You could seriously injure yourself and end up damaging the property that you were initially trying to clean.
Power washing can lead to significant and costly damage that can all be easily avoided. It's better to leave pressure washing to the professionals and stick to other DIY projects to complete your Lithia Spring's home, so call Superior Pressure Washing today.
Lithia Spring's Premier Lawn Maintenance Company
When people arrive at your home, the first thing that they see is your grass. A well-maintained lawn is an excellent opportunity to make an excellent first impression when people visit your home.
Your lawn can become riddled with weeds that work to destroy the integrity of your grass. With every changing season and finicky weather, it is not easy to keep up with your lawn maintenance. After all, you probably have a full-time job, so the only time you would have to work on your lawn's maintenance is after work or on the weekends. The weekends are supposed to be a break away from your busy work week, so why would you want to spend that time catering to your lawn?
Lucky for you, our team at Superior Pressure Washing can maintain your lawn for you. We care about the community of Lithia Springs. So, we love to contribute to keeping your beautiful Lithia Spring's homes well maintained. Don't let your lawn maintenance fall through the cracks, instead, call Superior Pressure Washing to ensure your grass stays in good shape year-round.