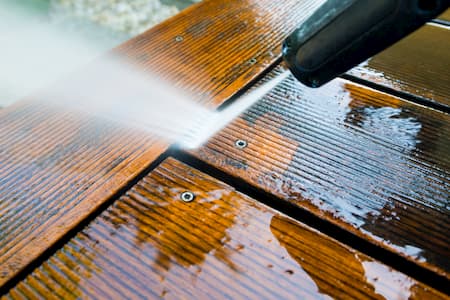 Superior Pressure Washing is proud to be the go-to deck cleaning specialist in Douglasville, GA. At Superior Pressure Washing, we understand a deck can be much more than some glued wood. Imagine lounging on a deck in the Georgia sun, not having a care in the world. Now that imagery can be ruined at the sight of a dirty deck. However, a proper deck cleaning from Superior Pressure Washing will have your deck looking new as ever just in time for you to get back to your daydreams!
Having an adequate deck cleaning routine is crucial to the lifespan and quality of your deck. Over time, mold, mildew, and dirt can accumulate on your deck, slowing starting to deteriorate your deck's surface. Power washing and sealing reverse that by giving your deck a heavy-duty cleaning, while dramatically increasing its service life.
Leave Deck Cleaning to the Professionals
Cleaning your deck might sound like an easy enough task to take up on your own, but it is always best to hire a professional for deck cleaning, concrete cleaning, or other pressure washing needs. If deck cleaning is done incorrectly, the pressure washer can easily cause permanent damage to your wood and ruin your deck forever. We know this sounds like a lot of work but hiring someone to regularly clean and seal your deck is a lot less expensive and time-consuming than replacing it entirely. Luckily, that's where we come in.
Superior Pressure Washing only uses the best equipment, with engineered cleaning solutions to make deck cleaning a snap! Aside from increasing your deck's lifespan, there are other pros to deck cleaning as well, such as:
Maintaining Deck Safety
Maintaining the Deck's Beauty
Increasing Your Property Value
It's time to start thinking about your deck's future. So, call us at Superior Pressure Washing our pressure washing professionals can get you started on your deck restoration services today!
---
Recent Articles & Tips
Why You Should Pressure Wash Your Drive Thru

Have you ever gone through a drive-through and wanted to return your order based on its condition alone? Surprisingly enough, this is more common than you think. Keeping your drive-thru clean is a ma […]

How Often Should You Mow Your Grass

Before we ask how often you should mow the grass, we need to start with when you should begin mowing your lawn. You can begin each spring by cutting the lawn before it turns green and begins growing, […]