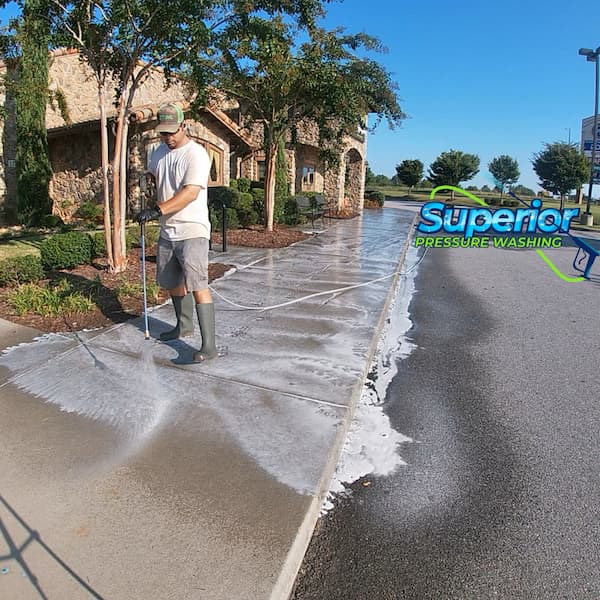 Savvy homeowners in Acworth know that Superior Pressure Washing is the name you can count on for the best exterior clean and pressure washing services. We are committed to customer service and satisfaction, and always go the extra mile to make sure our clients are happy with the jobs we do. We're homeowners too, and we know that having clean exterior surfaces isn't just about making them look nice. Getting rid of bacteria, algae, and other organic substances on your home's surfaces will save them from possible damage, as well as create a healthy environment for you and your family to exist in.
If you're on the market for the best pressure washing services in the Acworth area, give Superior Pressure Washing a call today! We only provide our clients with the best, cleanest results possible, so that you can keep enjoying your home year round.
Acworth's Leader In Pressure Washing
Are you an Acworth homeowner looking for an expert pressure washing company to keep the exterior of your home looking pristine? If so, you can trust Superior Pressure Washing for the best services and the highly skilled professionals to perform them. We're confident that we can offer you the best pressure washing, house washing, concrete cleaning, and window cleaning services for any project you have. If you're curious about our wide range of pressure washing services, our team of experts are always ready to answer your questions. Call us to find out what sets us apart from the pressure washing competition in Acworth.
Services We Offer In Acworth
House Washing Experts For Premium Service In Acworth
When Acworth homeowners need house washing services, give our team of experts a call. Superior Pressure Washing is the only name you need to know for various exterior surface cleaning services, including premium house washing. Take good care of your home by including professional cleaning as part of the routine maintenance.
Is exterior house cleaning necessary? Of course, it is because it helps eliminate contaminants that accumulate on the outside surfaces of your home. We're able to improve the appearance and condition of your home by eradicating:
Mold
Mildew
Bacteria
Algae
Lichen
And More
Over time, substances can infiltrate your siding by migrating underneath it and wreaking havoc. Mildew leads to mold, which leads to mold resulting in decay that can cause significant damage to your home. Don't take chances with the well-being of your exterior; leave the tough cleaning work to our trained experts.
Routine pressure washing also helps you retain the value of your home. Whether you're planning on selling or staying put, it's still good to take measures that will help your property hold its value.
Driveway Cleaning That Makes A Difference For Acworth Homeowners
Whether you want to admit it or not, your driveway is a focal point of your home. No matter how attractive and well-kept your home's exterior is if you neglect the driveway, you're doing yourself and your curb appeal a disservice. Keep the surface of your driveway free from corrosive substances, slippery sports, and oil stains.
Your driveway sees a significant amount of foot traffic, too. Removing the slick contaminants that make walking a potential hazard is of the utmost importance. The last thing you want is for one of your loved ones to injure themselves or for your driveway to be a safety hazard and liability for visiting guests.
If you're getting ready to seal your asphalt, you need to clean the surface first. A clean top layer helps prevent stains from becoming permanent and helps for better adhesion for the sealant.
Routine cleaning of your driveway will keep weeds at bay and lower the risk of mildew, mold, algae, and moss development. While weeds and other unwanted growth may still appear, they won't be able to take hold successfully or cause damage. To find out more, call us with questions or to request your free quote.
Acworth's Number One Choice For Commercial Pressure Washing
Commercial buildings are subjected to the same conditions as a home but often are more susceptible to factors like pollution and car emissions that leave surface stains. You need Superior Pressure Washing to offer the same level of expert care for your business as we provide for homes. Failure to stay current with exterior cleaning for your commercial property will cause the building to look uncared for, which can scare away customers.
Your competition is likely up-to-date with its exterior cleaning, so your prospective clients could be there instead of your place of business. Make a good first impression on the general public by keeping the outside of your business in tip-top shape.
Keep in mind that even when you don't know it, images are online or on social media. If you're not keeping your building looking its best, the images for your business may not be favorable.
Pressure washing is a critical part of a preventative maintenance plan. When you keep conditions clean, you're less likely to end up with frequent repairs or expensive replacement issues. Don't overlook the value of regular cleaning for your business, and make it a point to call us now to schedule your pressure washing appointment.
---