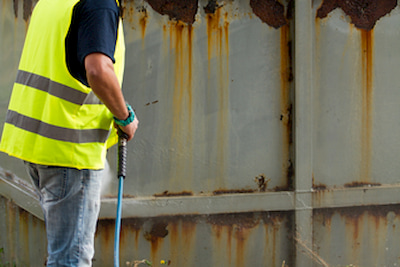 Orange Rust stains can build up on your structure, reducing your property's curb appeal. Superior Pressure Washing offers professional rust removal service in Douglasville and surrounding areas. We are happy to safely clean the rust off of your home, driveway, and sidewalks. With years of experience, we use a gentle but effective method to remove any rust and keep your home looking brand new. So, give your home a boost in curb appeal by utilizing our rust removal services today!
What Causes Rust?
You may be wondering, what exactly causes rust? When metal, air, and water mix, rust will soon follow. For instance, if you have metal furniture on your porch, it can corrode over time and cause staining. Various natural rock and stones have high levels of iron or coal, which cause rust stains.
When one of these rocks come into contact with your driveway, the combination of water and air mixed with the natural elements of the stones themselves cause rust stains. In addition, fertilizers that we use on our grass to keep it healthy are loaded with ingredients that can cause staining to our concrete driveways and the siding on our homes.
Why use professional pressure washing services
Using a pressure washer is the best and most efficient rust remover. The hard and fast flow of water from a pressure washer can remove rust stains. Trained professionals are skilled in which methods to use on these projects for the best results.
Rust removal products also contain harmful chemicals that you need to keep away from children and pets. Moreover, these chemicals can stain your home or concrete if not handled with the utmost care; That is why you should call a certified pressure washing team to help you with services like rust removal and graffiti removal.
Don't risk your time and money trying to conduct a rust removal service by yourself. The pressure washers used at Superior Pressure Washing are fully equipped to handle all of your rust removal service needs. In addition, our team of professionals has the experience to get the job done, right!
---
Recent Articles & Tips
How Professional House Washing Helps Improve Your Douglasville Property

Pressure washing is something you should be scheduling as part of your routine house maintenance. It's common for homeowners to wait until things look grimy enough to remember it's time to make that call. A better approach is to schedule service consistently, so you get a […]

Top 3 Benefits Of Professional Driveway Cleaning

As industry experts in the pressure washing field, we've heard all of the excuses. It's no surprise that homeowners have many reasons they put off a task like a driveway cleaning. It hurts our feelings when we hear things like "but it's just a driveway." Every […]
---