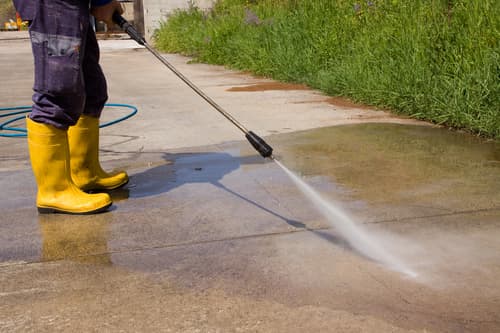 As industry experts in the pressure washing field, we've heard all of the excuses. It's no surprise that homeowners have many reasons they put off a task like a driveway cleaning. It hurts our feelings when we hear things like "but it's just a driveway."
Every part of your property is a piece of your home, and you should be committed to keeping your exterior looking its best. You can invest thousands of dollars into picturesque landscaping and the most perfect house painting, but your dirty driveway will steal the spotlight. The most unsightly detail of your home becomes the focal point, even if it's unintended.
Keep in mind that pressure washing isn't just about getting the siding clean so your home looks better. Exterior cleaning is about keeping all of your surfaces clean, so everything looks good - including your driveway.
Improving Your Home From The Driveway Up
We've already established the fact that driveway cleaning helps significantly with curb appeal. What else is there?
Some of the other three top reasons why you need professional power washing for surfaces like your driveway:
Make Safety a Priority
More important than curb appeal is safety. Slick oil spots or accumulation of algae causes the surface of your driveway to become a slippery hazard that's bad news for foot traffic. If you want to keep your family and friends safe while avoiding your property from becoming a liability, then stay current with driveway cleaning.


Stop Pesky Stains
Dirt is one thing; stains are quite another. Although we can still take care of marks on your exterior surfaces once they've become stains, it would be better to avoid them. Regular driveway cleaning helps prevent stains from forming.


Maintain Your Property Value
At any given moment, you should be confident that your home is at its maximum value. Keeping the exterior clean is a good way to encourage that. Just make sure the work is professionally done, so you don't end up with damages that detract from your property value.
Expert Pressure Washing Crew At Your Service
The Superior Pressure Washing would like to extend an invitation to get in touch today for your free quote. Our professional exterior cleaning service is highly sought after because we go above and beyond to take good care of our customers.
If you're ready for pressure washing and driveway cleaning in Douglasville, give us a call right now. We'll show you how much better and brighter your home can look with sparkling clean surfaces.
---