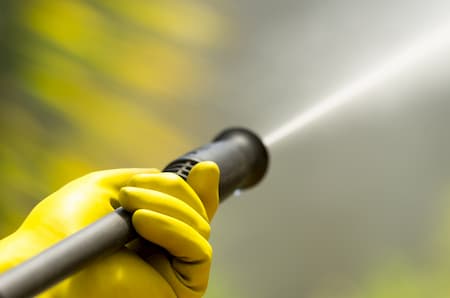 If you've noticed your home or business looking a little worn and tired, you've probably been thinking about ways to return it to its once original glow. When you look closely, you may realize that your property's main problem is a large amount of dirt and grime.
Fortunately, pressure washing can fix types of dirt and grime. Your home doesn't have to look old and stained any longer! Superior Pressure Washing guarantees high-quality service that is sure to make you home the envy of the neighborhood!
Stains Pressure Washing Removes
Dumpster Gunk - If you pay for trash service, you may never see what's at the bottom of your bin. If you ever want to look, you'll find a sludge made of grease, food scraps, and other unmentionables coating the bottom. Pressure washing removes tough sludge, slime, and potentially hazardous bacteria and odor. So, Pressure wash your dumpster so it can look brand new again.
Oil and Fluid Stains - If you own a parking area, you may be oh so familiar with hard to remove oil stains. If you have tried to remove them yourself, you may have found that you were having little to no luck. Fortunately, pressure washing can get rid of those stains! With Parking Area Cleaning, your lot can look brand new, just in time for your next customer!
Moss and Algae - With the Georgia heat and constant rain, we are willing to bet that you know a thing or two about moss and algae. So, if you've noticed your home getting a green hue, it might be time to invest in a pressure washing company. Here at Superior Pressure Washing, we offer house washing service sure to keep your home looking brand new!
Pressure washing can remove a wide variety of stains. We have mentioned a couple in this article, but there are many more stains that pressure washing aids in removing. So, if you have tough stains that seem impossible to remove call Superior Pressure Washing, we will remove any tough stain with your satisfaction guaranteed.
---