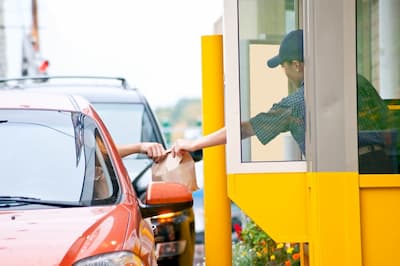 Have you ever gone through a drive-through and wanted to return your order based on its condition alone? Surprisingly enough, this is more common than you think. Keeping your drive-thru clean is a matter of keeping your customers and losing them. When maintaining a fast-food establishment's drive-thru area, it is vital to keep it as clean as possible. Nasty oil and scum build-up will immediately put off any customer and may negatively speak to the quality of your restaurant's food.
Keeping the drive-thru exterior clean is an indication of what to expect inside. Not maintaining the drive-thru makes people believe that this establishment has little regard for the cleanliness of their restaurant and food. If you need a drive-thru pad cleaning service, contact us today!
The Benefits of Drive-Thru Cleaning
Removal of Oil, Grease, and Debris - Removal of deep-set stains, caused by oil, grease, and debris, is highly essential for fast food drive-thru. Otherwise, they tend to make the environment look unsightly and dirty.
Maintaining the Appearance of the Drive-Thru - The aesthetic appearance of a fast-food restaurant tends to be the determining factor of whether or not people want to eat there. With pressure washing, your property will always look welcoming and appealing.
Promoting Health and Safety - Drive-thru pad cleaning can remove algae, mildew, and mold spores, which can pose health risks for your customers and employees.
Cutting Down on Costly Repairs - Algae, mold, and mildew can cause a lot of damage. They contribute to rot, the decay of building materials, and premature failure of paint coatings. Pressure washing can prevent all of this while keeping the exterior of your property clean and well-maintained.
Saving Time - Contracting a reliable pressure washing company will enable companies to avoid using their employees and time to clean. This will allow them to focus on restaurant matters instead of focusing on pressure washing.
Standing Out of The Crowd - A pressure-washed fast-food drive-thru will always stand out from the competition in all the right ways!
Investing in Drive-thru pad cleanings is essential to the success of your business. If you need your drive-thru pad cleaned, call us! Here at Superior Pressure Washing, we guarantee that we can have your worn driveway looking brand new!
---