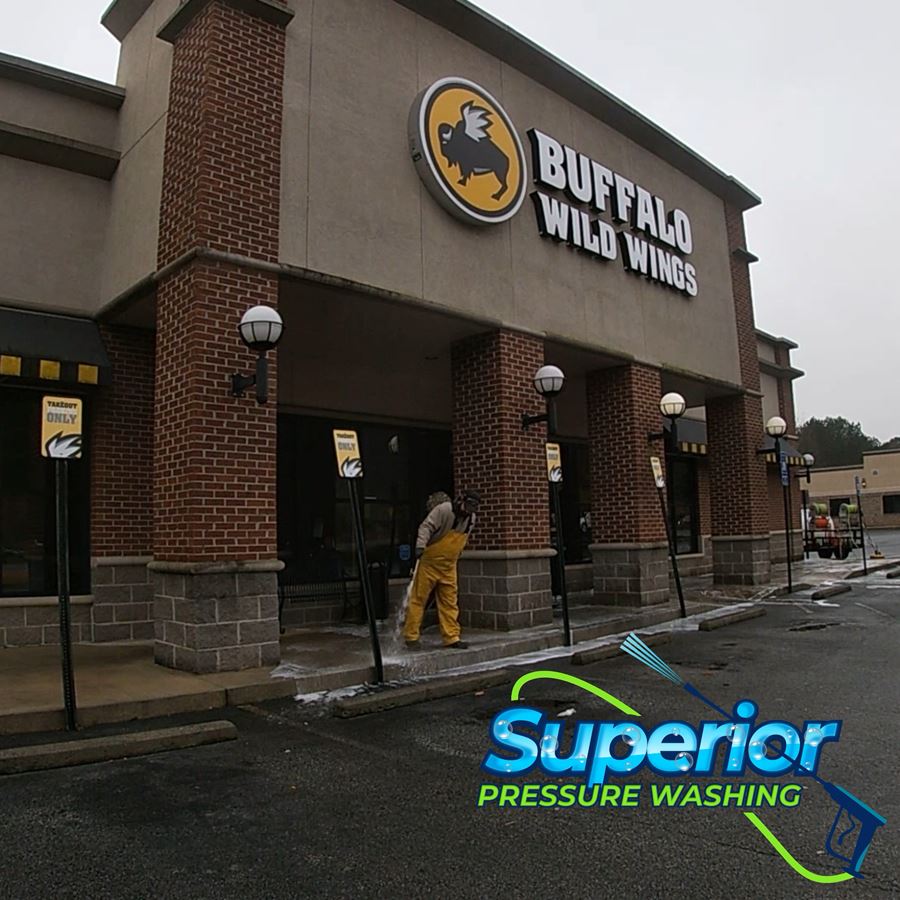 We provided Commercial Pressure Washing in Douglasville, GA 30135 to the local Buffalo Wild Wings! The job request was for cleaning the Sidewalk and Awnings in the front of the building. We were very appreciative that the management staff gave us this opportunity to help them and be of value to their restaurant operations and guest dining experience!
Upon our arrival to the location it was apparent that some good old TLC was needed and we were happy to turn this restaurant back into the Gem it was meant to be! We cleaned the sidewalk with a pressure washing technique, our first step began by pretreating it with a special detergent to remove the black foot traffic grime. After the detergent was applied to the sidewalk we allowed it to dwell before surface cleaning was performed. Surface cleaning utilizes high pressure water that is applied with a yellow disc looking piece of equipment. After we surface cleaned we then post treated the sidewalk by applying a special soap that is designed to help brighten the concrete.
Next we began the task of cleaning the two awnings in the front of the building; we did this with a SoftWash Technique. The SoftWash technique is important to use when cleaning awnings because it utilizes low pressure. High pressure that is used when pressure washing would have put unnecessary wear on the fabric of the awnings, and that's why it's important to only SoftWash them. The first step was to apply a special soap designed to break down organic growth with low pressure, low psi. After appropriate dwell time we gently brushed the awnings with a soft bristle brush to work in the soap and loosen the organic growth. The next and final step was to rinse off the decayed organic growth and soap, we did that with pure water at low pressure, low psi.
The final results were transformational and the Buffalo Wild Wings in Douglasville looked completely amazing from our pressure washing and soft washing services! We are very appreciative and proud to have been of service to such a great restaurant in our local community that so many people enjoy dinning at! Thank You Buffalo Wild Wings!
Photo Gallery