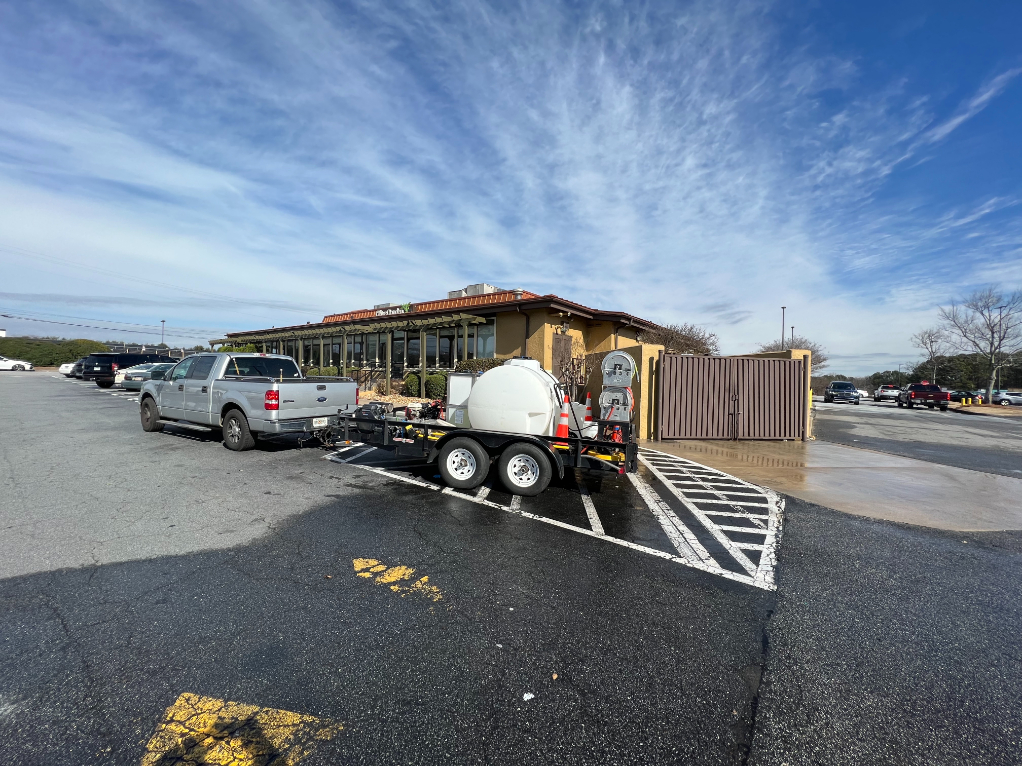 In this project Superior Pressure Washing had its professional's sent to the local Olive Garden in Kennesaw, GA 30144 to perform a cleaning on their compactor pad, dumpster pad and rear commercial sidewalk.
When it comes to restaurants it's best to have a routine pressure washing service to cut down on unwanted buildup. Reasonings for this is that it makes a more appealing atmosphere for customers and employees. It also prevents slick concrete surfaces that can be a liability for the restaurants. It also removes germs and creates a higher sanitization level along with deterring rodents and pests.
In this project we started our service by applying a professional grade degreaser to treat the surfaces of buildup that included oils and grease for the main bulk. We gave the degreaser 20-30 minutes of dwell time so that the degreaser had time to break down the oil, grease and buildup. After the degreaser worked it's magic we pressure washed the surfaces affected with our surface cleaner. Next we rinsed down the compactor pad, dumpster pad and rear commercial sidewalk to reveal a much cleaner surface. Lastly, we post treated the 3 areas of focus with professional strength sodium hypochlorite to neutralize remaining germs and bacteria. In case you're wondering what sodium hypochlorite is, it has bend branded as Bleach, Clorox, Chlorine for store bought strength.
We hope you enjoyed this project read, if you're interested in learning more or would like to obtain a quote or consultation, then feel free to give us Superior Pressure Washing a call, we gladly service the Kennesaw community!
Gallery