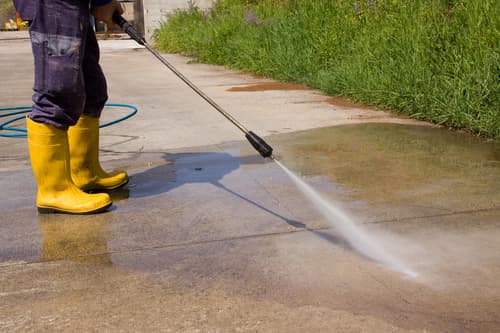 Having your Alpharetta home revitalized with a professional pressure washing service by Superior Pressure Washing can really do wonders in regard to curb appeal! Not only that, but pressure washing can also preserve your exterior surfaces and greatly expand their lifespan.
Pressure washing is the use of highly pressurized water, pumped through a machine at various temperatures, and mixed with an assortment of cleaning solutions. Pressure washing allows for deep cleaning of a wide variety of hardscape surfaces that are mostly too tough to clean with conventional methods. That's pressure washing in a nutshell, but have no doubt that the industry has come a long way. Here at Superior Pressure Washing, we've been on top of all things pressure washing for years, and our seasoned crew has experience with all the techniques and innovations that have come with it. So when you want a reliable pressure washing professional that can give your home the most thorough clean in Alpharetta, call on us!
Finest Driveway Cleaning For Homes In Alpharetta
The driveway cleaning services we offer at Superior Pressure Washing use a partnership of high-pressure washing and soft washing, which is a combination of low water pressure and special eco-friendly detergents. This allows us to remove even the most stubborn stains and blemishes from the surface of your driveway without causing any harm to the concrete itself. That way, you can look back and marvel at how nice your driveway looks and never have to worry about unsightly chips, streaks, or cracks.
When we clean your driveway, we don't cut corners-- we clean it well. We use only the best commercial-grade equipment that you won't find at your local home improvement store. Our goal is to revitalize your driveway's surface so that it can add to the beauty of your home and create a welcoming atmosphere for any visitors or neighbors. Our team members know all the special tips and tricks to get a good, thorough cleaning that comes only from experience in the industry. Compare our work with a competitor's, and you'll notice a significant difference in terms of quality.
Alpharetta Homes Will Benefit From Regular House Washing
It's a given that routine house washing will make your Alpharetta home look better, but have you ever wondered about the other advantages of this service? Aside from aesthetics, giving your home exteriors a deep clean yields many other benefits, like:
Toxin removal: House washing eliminates allergens like mold and pollen from your exteriors so that they don't make their way indoors and create health issues for you and your family. This promotes better health in your household and ensures your family's wellbeing.
Decay Prevention: House washing can help preserve the quality of your home's exterior materials by destroying any decomposing elements present in these areas. By scheduling regular cleaning, you can avoid the expense and hassle of replacing decayed exterior material and save yourself money.
Increased property value: Investing in house washing can boost your home's value instantly. This is an especially excellent benefit if you're looking to put your home on the market soon. Furthermore, if you are planning to sell, investing in house washing before listing your home can help attract more serious buyers.
Alpharetta's Top Choice For Commercial Pressure Washing Services
Superior Pressure Washing is happy to help local businesses by keeping them looking good! Our commercial pressure washing is the perfect way to maintain your building as well as your image. Make sure you include exterior surface cleaning as part of the routine maintenance for your commercial business.
Taking care of your facility isn't easy if you're trying to do the work yourself. Let us focus on cleaning your exterior while you concentrate on other aspects of running your business. We've assisted countless local entrepreneurs by making sure they make a good first impression with a sparkling clean exterior.
Failure to stay current with cleaning will cause your clients to question how seriously you take your business. It could easily send new and existing business to your competition. Show the community you mean business by caring about your business with our pressure washing.
You'll be glad to know that a clean exterior also helps you avoid frequent, costly repair issues. It's more financially savvy to pay for routine cleaning than to get stuck with unexpected emergency repairs. By calling us for exterior cleaning, you'll know you're in good hands. Call us today in Alpharetta to receive your free quote for our commercial pressure washing.
---