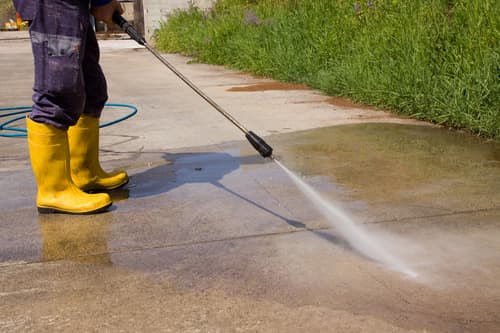 Superior Pressure Washing is proud to be the preferred local resource for pressure washing services in Brookhaven, Atlanta. Taking care of your home or commercial property is about preventative maintenance, and that includes regular exterior cleaning. However, you shouldn't attempt to take care of any pressure washing on your own; finding the right professionals to work with to get the job done is the best step to take. Knowing which tasks are best left to professionals is half the battle. Pressure washing is one of those jobs, and our team is ready, willing, and beyond capable of taking care of it for you. Schedule regular service for your home to always keep it beautiful and protected.
Being a local leader means offering the services home and business owners in Brookhaven, Atlanta need most. Call on Superior Pressure Washing for any of the following pressure washing tasks:
Apartment complex washing
Building washing
Concrete cleaning
Window cleaning
Driveway Cleaning To Maintain Your Brookhaven, Atlanta Concrete
To keep your concrete well-maintained and looking fresh, it's recommended that Brookhaven, Atlanta homeowners invest in professional driveway cleaning services. However, once a year is just the minimum recommendation-- your driveway can only benefit from more frequent, seasonal pressure washing appointments.
Pressure washing is the perfect cleaning process for your concrete because it gets into all the smallest nooks and crannies that might hold dirt and grime. The high-powered water spray also gets into the pores of the concrete, which cleans away more contaminants than other traditional cleaning options.
It might be time to call Superior Pressure Washing when you notice any staining or imperfections on your driveway. Automotive stains like oil, rust, and anti-freeze can be brutal on your concrete as they seep into the pores and break down the structure of the surface over time. Once cracking and breakage start, it's almost impossible to stop them without investing in expensive repairs. By getting a professional pressure washing service seasonally for your driveway, you are doing your job as a homeowner by maintaining your concrete as well as saving on repair costs.
Your Brookhaven, Atlanta Home Will Shine After Professional House Washing
In the beginning, most pressure washing companies used the same approach to clean exterior surfaces of all kinds. That meant the same techniques used in your window cleaning were the same as your concrete cleaning. While the pressure washing system has proven to be effective, it's not appropriate for all surfaces. The high-pressure water spray can cause damage to specific components of your home, which is where soft washing becomes invaluable. This special, gentler house washing method:
Prevents structural damage
Avoids water penetration
Uses eco-friendly cleaning solutions
Destroys algae & mold at their roots
Disinfects & sanitizes
Superior Pressure Washing is the reliable team of experts that homeowners in Brookhaven, Atlanta have come to depend on for superior soft wash house washing. We're the pressure washing specialists who deliver on our promise of guaranteed customer satisfaction every single time. Your home deserves the safe but effective cleaning services that we provide by using soft washing in the places where it's necessary.
Brookhaven Customers See Real Results From Our Commercial Pressure Washing
If you want to impress your clients and prospective customers in Brookhaven, show them you care about your business. Regular commercial pressure washing is a great way to improve the appearance and condition of your commercial property, and a clean exterior is an effective way to make an excellent first impression.
Our exterior surface cleaning methods are safe but thorough. We get into nooks and crevices to eradicate the presence of dirt, bacteria, and corrosive contaminants. Take good care of your commercial property by leaving the pressure washing to our pros.
It's not the type of work you should do yourself, but it still needs to be done regularly - schedule exterior cleaning with our experts as part of your ongoing maintenance routine. If you want to avoid frequent repairs, cleaning and upkeep will help make a significant difference.
Our commercial exterior cleaning provides benefits such as:
Better curb appeal
Increased property value
Promote health and wellness
Reduce repair costs
Attract new clients
Improve employee morale
No matter how long you've been procrastinating, there's no time like the present to schedule your commercial pressure washing. Call us today in Brookhaven and receive a free service quote.
---