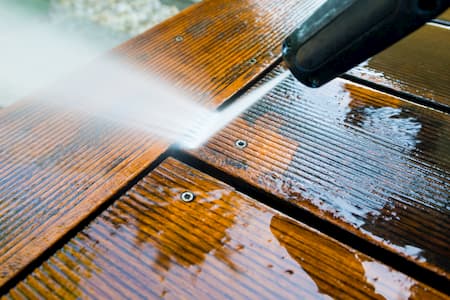 Superior Pressure Washing is the pressure washing company that is relied on by home and business owners alike in Buckhead, Atlanta. Every service we complete is guaranteed to be finished with the same care and effort as we would like done to our own properties, meaning that contacting us for anything you may need is the best option. Whether your property is commercial or residential, we can offer you a host of services to clean and protect, restore, and beautify it:
Window cleaning
Sidewalk cleaning
Deck cleaning
Rust removal
The only thing separating you from all of these high-quality services is a phone call, so don't wait! Call on our Buckhead, Atlanta pressure washing experts today and get a clean you'll have to see to believe for your exteriors.
Soft Wash House Washing For Your Buckhead, Atlanta Siding
It brings our team at Superior Pressure Washing a lot of pride to offer house washing in Buckhead, Atlanta because we know how incredibly beneficial it is to any home we perform it on. To know if you need house washing, examine your home—if you see it has mold or algae clinging to it or the paint has discolored over time, it is probably time it was cleaned.
Not only can we improve the way the siding of your home looks, but we can also help your siding last longer with our cleaning services. When materials that are commonly found on homes stay on the surface too long, they will break it down and end up damaging your siding in the long run. Let Superior Pressure Washing take care of your house washing and free you of those dangerous contaminants and much more.
Buckhead, Atlanta Trusts Our Professional Team For Driveway Cleaning Excellence
Your local home improvement or box store in Buckhead, Atlanta would love to convince you that driveway cleaning is the perfect do-it-yourself job. All you have to do is rent and transport their clunky and outdated pressure washing machinery, and then attempt to clean your own exterior concrete surfaces. Of course, you're expected to do this without any training or supervised experience. What could go wrong, right? Well, if property damage or potential severe injury isn't something you're worried about, you should be! You're also not likely to be happy with the job's outcome when you let an amateur do it instead of an expert.
At Superior Pressure Washing, we want you to be happy with the results of your pressure washing services without the risk of damage, injuries, or mediocre results. Driveway cleaning from a professional pressure washing company will eradicate common driveway issues while giving your home a curb appeal boost. Call us now and schedule driveway cleaning for your Buckhead, Atlanta home today.
Buckhead's Premier Choice For Commercial Pressure Washing
Give your business in Buckhead a boost with our outstanding commercial pressure washing. We're able to provide you with superior exterior cleaning services that will take your commercial property from drab to fab.
Schedule routine pressure cleaning for your commercial business on a regular basis to help make a good impression on your existing and potential customers. The last thing that you want is to create a poor first impression on prospective clients. Plus, a clean facility boosts employee morale, and that's good for productivity.
Our team can expertly wash away the accumulated grime and contaminants that collect on the outside of your building over time. Not only does this mess look bad, but it can also cause problems for your property. Make commercial pressure washing part of your regular maintenance plan if you want to reduce the risk of contending with costly and frequent repairs.
Don't let your business look neglected and rundown. Without regular professional exterior surface cleaning, your customers are likely going to find somewhere else to do business. Call Superior Pressure Washing today to schedule your commercial pressure washing in Buckhead. We promise to meet and exceed your expectations.
---