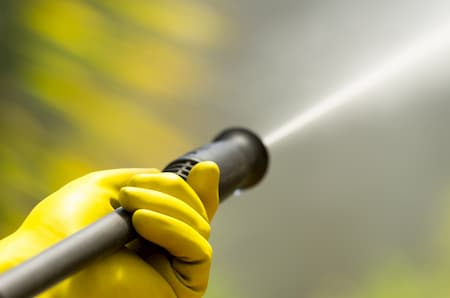 You can't go wrong with Superior Pressure Washing when you find yourself in need of professional pressure washing services in the Duluth area. As our gallery demonstrates, we pride ourselves on providing stunning results for every exterior cleaning project we undertake. It's our goal to deliver your home or business the exceptional exterior cleaning it needs to stay strong and retain its natural beauty over the years. Give our team a call today if you have any questions about the pressure washing services that we offer to the Duluth area:
Driveway cleaning
House washing
Deck cleaning
Grafitti removal
And more!
Peachtree Corners Homes Will Benefit From Professional Driveway Cleaning
Over time, grease, grime, and other contaminants can leave your concrete driveway looking dull and dirty. But with the help of a reliable pressure washer like Superior Pressure Washing in Peachtree Corners, you can get the high-quality driveway cleaning services you need to keep yours looking its best. When you hire us to clean your driveway, you'll have exactly what you need to keep it looking as new as the day you first had it poured– fresh and bright white! Driveway cleaning can also help prevent deterioration that could lead to expensive replacement costs down the line.
When you're looking for a professional pressure washing contractor you can trust for all of your driveway cleaning needs, give us a call today and let us show you the kind of quality results that have helped make us the area's most trusted name in driveway cleaning, commercial pressure washing, and much more.
House Washing Pros Offering A High-Quality Clean In Peachtree Corners
If your home maintenance and improvement checklist doesn't include regular exterior cleaning, you're not doing yourself or your home any favors. There are so many things that can happen to your exteriors over time, and the constant exposure to the elements doesn't help. Oxidation, discoloring, and deterioration can destroy your home's most beautiful exterior features unless you stay diligent about regular cleaning.
Regular house washing is a critical part of exterior cleaning and helps in ways you may not even realize:
Prevents damage
Lowers frequency of repairs
Increases property value
Cleaner & healthier conditions
And, of course, let's not forget that regular pressure and soft washing restores your home's curb appeal. If your dream home is beginning to resemble more of a nightmare, Superior Pressure Washing is the team you can trust to beautify it.
Best Commercial Pressure Washing In Peachtree Corners
You can put your faith in Superior Pressure Washing for superior exterior cleaning in Peachtree Corners. We always go the extra mile to ensure total client satisfaction for every job. Taking care of a job like commercial property exterior maintenance is important to us, professionally and personally. We know how vital it is to be able to take good care of the place where you do business.
It doesn't take long for dirt and grime to accumulate, but we can reverse the adverse effects. Our thorough cleaning rids your business property's exterior of:
Algae
Lichen
Bacteria
Corrosive Substances
Bird & Pest Droppings
Over time, these substances tarnish your commercial property's look and condition. If you'd like to lower the risk of ongoing repair needs, including professional cleaning as part of your routine business maintenance plan.
We can work with you to schedule a routine cleaning time that works best for your property. We take into consideration factors like the amount of direct sunlight your business has and how much rain we've had for the year. The damper the conditions, the more frequently you'll need our help.
Give us a call right now to request your free estimate. We look forward to showing you why our company name is synonymous with excellence.
---