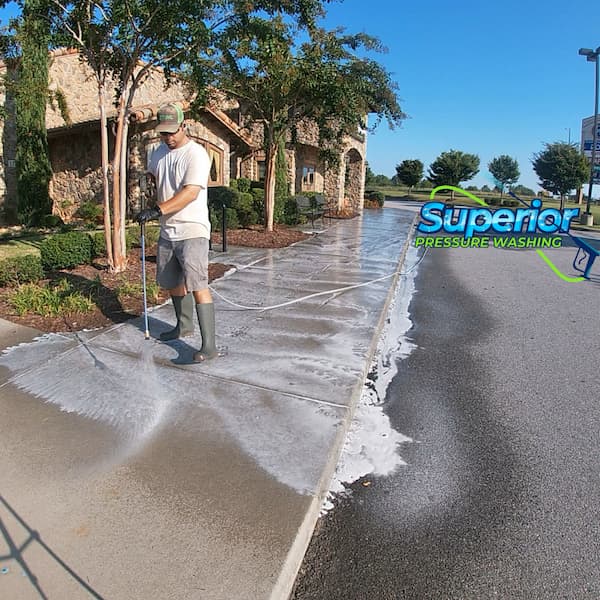 When homeowners in Chattahoochee Hills need expert pressure washing, they know to come to Superior Pressure Washing. We're committed to industry excellence, which shows in the impeccable results we can deliver every time. We will exceed your expectations and earn you as a loyal, long-term customer.
Keeping the outside of your house spotless isn't just about curb appeal, although that certainly doesn't hurt! We're more concerned about avoiding unnecessary repairs and helping you maintain your property value. Plus, jobs like house washing are the essential first step for house painting or listing your home for sale.
Premium House Washing In Chattahoochee Hills
Speaking of house painting, when was the last time you scheduled this service for your home in Chattahoochee Hills? More than likely, it's been longer than you realize, and more time has passed than you intended. It's a common mistake, but one that you should correct immediately.
Failure to schedule house washing causes the accumulation of unwanted surface substances like:
Algae
Mold
Moss
Bacteria
Corrosive Contaminants
We'll keep your exterior looking its very best and provide you with the professional exterior surface cleaning service you need to maintain your dream home. Don't let your home sweet home begin to look shabby and neglected from years' worth of grime.
Expert Driveway Cleaning For Chattahoochee Hills Customers
Make it a point to keep your home looking its best by taking care of every detail. A common mistake Chattahoochee Hills homeowners make is forgetting to keep their driveway clean. A dirty driveway will steal the spotlight and cause your otherwise picturesque home to look filthy.
Our driveway washing removes oil, fuel, paint, and other spots that make it look terrible. Call today for your exterior cleaning appointment.
Best Chattahoochee Hills Area Commercial Pressure Washing
You'll be glad to know we also offer commercial cleaning! We want you to be able to take good care of your home and business.
We also want to make sure you make a positive first impression on your patrons and prospective customers. Contact us right away for residential and commercial pressure washing in Chattahoochee Hills.