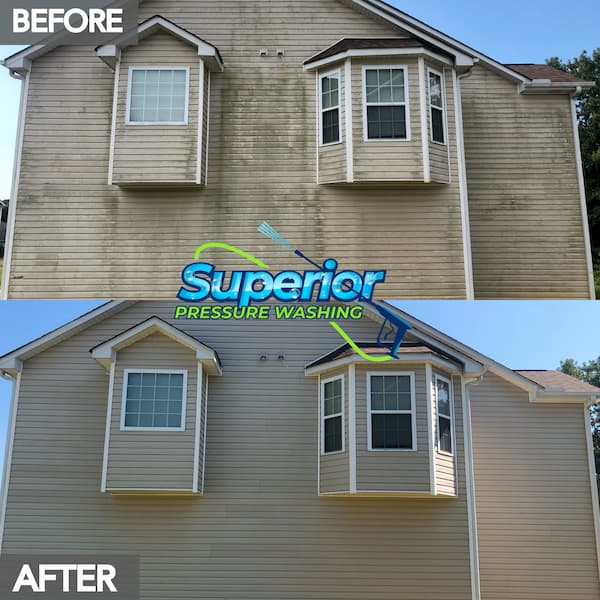 When it comes to getting pressure washing services for your home, you expect a certain level of quality results. Our pressure washing team in Woodstock is here to give you the fantastic results you expect no matter what type of cleaning project we help you with. We work hard to become your one-stop shop for a complete range of exterior cleaning to keep your property in great shape. We're more than happy to help you with smaller jobs like driveway cleaning, deck cleaning, or larger projects like house washing. Just give us a call and tell our pressure washing contractor what you need today. As Woodstock's exterior cleaning professionals, we are dedicated to giving you amazing results every time so your home can stay looking great.
Clean Up Your Woodstock Home With Pressure Washing
Dirty exterior surfaces can do more than just look unsightly, they can hurt your home and your family. Substances like mold, mildew, and fungi can grow on your home's exterior surfaces and eventually work their way to interior structures and living spaces if left unattended for too long. Mold can create an unsafe environment for you and your family, especially those with breathing issues. Let Superior Pressure Washing take some of the stress and worry that comes with owning a home away by providing top-rated pressure washing services. In the hands of experienced pros like us, pressure washing can return your home to its former glory, clean and safe.
Woodstock's Top Choice For House Washing
You can count on Superior Pressure Washing to provide youwith top-notch service all around. We offer a wide range of services, but our house washing is probably our most commonly requested. It's a critical part of home maintenance, and we're honored to be able to help so many homeowners with the upkeep of their dream homes.
We use careful but thorough cleaning methods to get every nook and corner of your home clean. Our exterior surface cleaning work is second to none, and our customer service is just as outstanding. Why do you need routine cleaning for the outside of your home?
Improve curb appeal Increase property value Remove potentially damaging substances like mold Eradicate potential health threats like bacteria Reduce the need for repairs
It's not all just about looks, although that matters too. Your home requires a certain level of ongoing maintenance, and cleaning is an essential part of that. Without regular, professional exterior cleaning, your home will look rundown and fall into a state of disrepair.
Some homeowners think pressure washing is a DIY job, but that's not the case. For thorough cleaning without the risk of property damage or bodily injuries, let us do the power washing for you.
Driveway Cleaning Will Improve Your Woodstock Home
Do you know what's collecting on the surface of your driveway? One thing is for sure, none of it is what you want to have accumulating there. Our driveway cleaning will remove the grime that develops over time, including oils, grease, and other substances.
Some property owners think they can get away with skipping cleaning their driveway. The problem is that if you ignore the need for driveway washing, you're ruining the overall visual appearance of your dream home. No matter how stunning your home is, the stained driveway will become the focal point. We'd like to prevent that from happening by offering regular driveway washing for your home.
Washing your driveway also helps remove and prevent mildew, moss, mold, and algae growth. These are organic materials that detract from the look of your driveway, but that can also pose a threat to the condition of your driveway. These contaminants also cause the surface to be slippery, and that's hazardous for foot traffic across your driveway.
We're one call away and ready to spring into action. Contact us today to receive your free quote for our premium exterior cleaning services.
Woodstock Clients Appreciate Our Commercial Pressure Washing Service
There's so much riding on the appearance of your facade and the impression you make on prospective clients. There's also so much accumulation of grime stuck on the outside of your commercial property, and we're here to fix that for you.
Your building is exposed to some of the harshest conditions and worst of the elements, such as:
Pollution
Grease
Bird Droppings
Dirt
Mold
And More
Remove the contaminants to improve the appearance of your property and reduce the need for frequent repairs. Our commercial pressure washing will do wonders for your building and boost employee morale. There's no reason to settle for a dirty building or attempt to DIY your exterior cleaning work. Leave it to the pros at Superior Pressure Washing, and you can rest assured that you're in good hands. We go above and beyond to ensure total satisfaction for every customer we work with.
Our technicians will work hard to clean your storefront and make a good impression on you so you can do the same for your customers. Please reach out to us today to schedule your commercial or residential pressure washing.
---